Elite Singles Review: Pros, Cons, Costs; Should You Use Elite Singles? Is Elite Singles Worth It? eHarmony Reviews, Elite Singles Cost, Free Trial, Complaints
EliteSingles: What is Elite Singles? Elite Singles Review (aka Elite Dating App), EliteSingles App Review
For other dating app reviews from Hinge, Bumble, Tinder, Coffee Meets Bagel, Match.com & More: http://eddie-hernandez.com/category/dating-app-review/
There are many dating apps out there and it's hard to know which ones are for you. The topic of dating apps still carries some stigma but not nearly as much as 5 years ago nor 3 months ago pre-Coronavirus.
Many dating apps over-promise and under-deliver and it's usually not until you invest several weeks or months that you can arrive at this conclusion.
Looking at the name alone 'EliteSingles' sounds scammy and narcissistic. If you take a step back and see who owns Elite Singles, it belongs to Spark Networks (the other dating site conglomerate outside of Match Group).
Spark Networks acquired EliteSingles in 2017. Other dating sites owned by Spark Networks include: Zoosk, Christian Mingle, JDate, SilverSingles, JSwipe and a few others. The other properties under the umbrella should give some pause as they are not the most respectable sites out there.
Upon registration, Elite Singles unleashes a barrage of questions similar eHarmony and their personality tests. The first question alone is a bit odd and feels like it has little to do with you and what you seek.
Elite Singles Registration, Application
After several dozens questions, including some that feel a bit repetitive, you get the sense that the company is basically gathering info to sell to advertisers as much as it is trying to match you with other people. However, questionnaires like this feel a bit biased.
Many questions ask about how you view yourself and most people lack the self-awareness and brutal honesty to really present oneself accurately.
Once you are done filling out the questions, you get to the screen about preferences. The smallest radius you can select is 50 miles.
Some people are fine with this radius but most people prefer smaller radius to 20-25 miles if that (if you are in a big city, it can be 5-10 miles).
This radius minimum suggests the Elite Singles does not have enough profiles to show you otherwise in your city and surrounding areas. Most other apps contain smaller radius preferences.
After you get past this screen, then comes the payment screen. You can bypass this page and go straight to your profile and suggested matches but what irks me is that Elite Singles forces you to sign up for a subscription before you can do anything on the site.
At least Match.com (which I have repeatedly targeted for their suspect practices) allows users to conduct searches of profiles, select smaller radii, let's users see photos and notes profile activity levels with last login information via their dots and circles. Elite Singles does none of this.
How Much Does Elite Singles Cost Per Month? Elite Singles Price
Dating Coach Services - Men & Women
First date ideas, wardrobe styling, places to meet singles, where to sit at bars & restaurants, body language, vocal intonation, eye contact, conversation skills, how to be more approachable, conversation starters, grooming, hygiene, hair, wardrobe, style, hobbies, lifestyle choices, uncovering blindspots, reducing biases, weeding out creeps & time-wasters and more.
Clients from NYC, LA, Chicago, Washington DC, Silicon Valley, San Francisco, Boston, Austin, Seattle, London, Sydney & beyond. As seen in the NYT, WSJ, AskMen, Women's Health, SFGate, ABC7News, Bumble & More
All you can do is look at blurred photos of a handful of people. You can't even conduct a search to get a rough idea of how many people are in your area.
The only people who use this site are those that think they are too good for Tinder, Hinge, Match or Bumble etc. Do you really want to meet someone like this?
Elite Singles Profiles, Search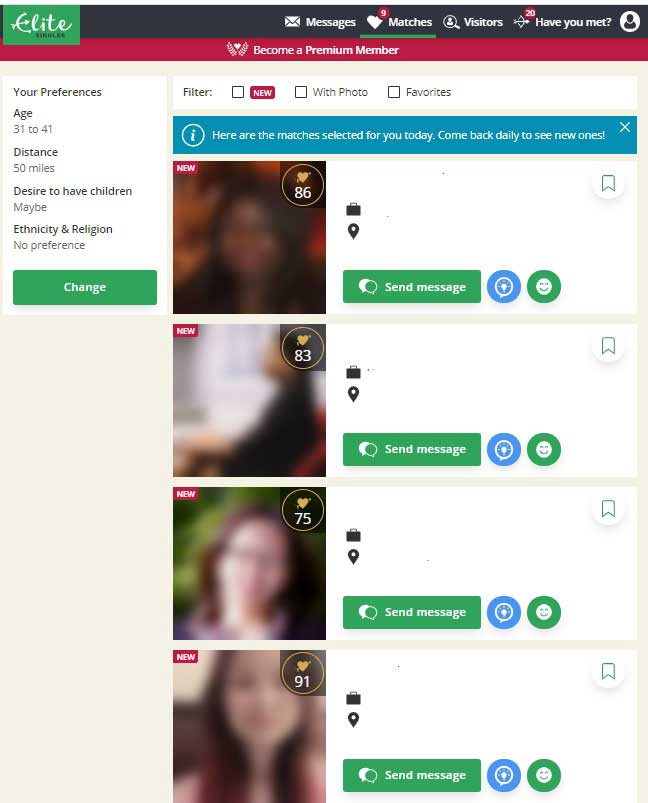 The closest app comparisons for Elite Singles are eHarmony and the League. At least with The League you can curate your preferences and filters more so you can focus on those closer to you and see how they look like.
Of all the apps I have reviewed thus far, this one deserves my absolute lowest ranking next to Adult Friend Finder, Seeking Arrangements, SugarDaddie etc.
How Legit Is Elite Singles? Is Elite Singles Any Good? Is Elite Singles A Good Dating App?
I have never recommended it once, to anyone, under any circumstance. Even I recommend Tinder in certain scenarios. I think you should stay clear of this app at all costs.
What Is The Success Rate Of Elite Singles?
I have family, friends and clients who have met spouses on nearly every site including Tinder, Craigslist, Coffee Meets Bagel, Hinge, The League, Match, OkCupid, Yahoo Personals, but never have I heard anyone say they have met their partner on Elite Singles. Never.
Does EliteSingles Work? Should You Use Elite Singles? Is Elite Singles A Good Dating Site?
Let's just say I would have a hard time recommending it to anyone, ever.
Elite Singles Free Trial
It's not worth it but if you are curious, Elite Singles may offer you a free 3 day trial when you subscribe to their products. Similar to Match.com states like California may offer customers a grace period for subscription products.
It's best to contact Elite Singles directly for details. These trial periods usually require you to renew at full price unless you cancel.
Elite Singles Login
https://www.elitesingles.com/web/register 
Match vs eHarmony vs Elite Singles: Which Is Better?
eHarmony and Match.com are often compared to Match which has more users but most of them are not active nor paying members (unable to read or reply. Read my Match.com overview here.
Is Elite Singles Worth The Money? Elite Singles Complaints, Is EliteSingles Any Good?
No, I have never recommended this site to anyone. Just because you are paying for a site doesn't mean it's a better option than a free dating site. Don't make this mistake.
Elite Singles Customer Support, Contact Information 
Elite Singles Help Line, Information & Contact Info
Does EliteSingles Have Fake Profiles?

Read this.
eHarmony Review, Is Eharmony Worth It? Pros & Cons, Success Rate, Elite Singles Reviews, Eharmony BBB, Eharmony Complaints, EHarmony App Reviews, EHarmony Dating Reviews, Elite Singles App Review
eHarmony is a similar site. I don't recommend it. Paying for sites doesn't mean better intentions or enough profiles.
At least with a site like Match.com, you can browse profiles to see if it's worth your time. Paying for apps doesn't mean a better experience.
https://www.bbb.org/us/ca/los-angeles/profile/online-dating-services/eharmony-inc-1216-13109297 
Dating Profile Critique For Men & Women: Dating Profile Review (Hinge, Bumble)
App Choice, Photo Order, Photo Critique, Bios + Prompts + Photo Captions, Wardrobe Feedback, Grooming Suggestions, Clothing & Hairstyle Recommendations, Body Language, Smiles, Facial Expressions, Hobbies, Interests, Lifestyle Choices, Etiquette & More For Men & Women.
-As seen in the NYT, WSJ, AskMen, Women's Health, Bumble, SFGate, ABC7News & More
—
Additional Reading: Elite Singles Review, Cost, Eharmony Pros & Cons, Review, Is Eharmony Worth It? Eharmony Complaints, Eharmony Horror Stories, Eharmony vs. Match, Eharmony vs EliteSingles, EliteSingles Review, Elite Singles Reviews Complaints
Best Dating Apps in 2022 – Best Dating Sites
OurTime Dating Site Review – OurTime Pros & Cons, Complaints
Online Dating Gender Ratios – Dating Apps With The Most Women
Monthly Average Users and Median Age By Dating App – Dating App User Counts
Best Dating Sites For Educated Singles, Professionals & Intellectuals
Match.com Review – Is Match.com Any Good? Is It Worth It?
How To Write An Online Dating Profile – How To Write A Good Dating App Profile
Online Dating Frequently Asked Questions (Beginners Guide, Introduction)
Online Dating Red Flags – Dating Profile Red Flags
Tawkify Reviews: Tawkify vs eHarmony -Tawkify Reviews
How To Spot Fake Profiles On Dating Sites – How To Spot Fake Dating Profiles
Online Dating Background Checks – Dating Profile Background Checks
Tinder vs Hinge vs Bumble – Dating App Comparison
How To Be More Successful With Online Dating – How To Do Better On Dating Apps
Online Dating Resource Guide (Safety Tips, Studies, Articles, Podcasts, Books, Surveys & More)
About Eddie Hernandez
Eddie Hernandez is a dating coach for men & women and a professional photographer based in San Francisco, servicing clients in NYC, LA, Chicago, Silicon Valley, London, Washington DC, Boston, Sydney and beyond as seen in the NYT, WSJ, SFGate, ABC7News, AskMen, Women's Health Magazine & Bumble.
Former analytics professional and former user of dating apps himself, he possesses unique insight into dating app algorithms as well as a keen understanding of dating cultures across various locations, demographics, ages, ethnicities, cultures, genders and orientations.
He provides guidance on app choice, bios, prompts, wardrobe, messaging, image consulting, date planning, screening profiles, ID'ing red flags, weeding out time wasters & creeps and offline tips including lifestyle choices, hobbies, grooming/hygiene, communication skills, confidence, where to go, sit and meet singles. Whether you are a person of color, short guy, introvert, engineer, successful professional or woman over 40, he can help you be more efficient, knowledgeable and effective in your dating life.
Dating App FAQ's | Online Dating Resource Guide | Dating Services  |  New To Dating Apps
Elite Singles Review, EliteSingles Dating Reviews, Is Elite Singles Worth It? Should I Use Elite Singles? Is Elite Singles Any Good? Should You Try Elite Singles, Elite Singles Site, Elite Singles Dating Site, Elite Singles Website, EliteSingles Dating App, Adult Friend Finder, AdultFriendFinder, Adult Friend Finder Review, Adult Friend Finder Complaints, Elite Singles Complaints, Does Elite Singles Work, Adult Fried Finder Data Breach, EliteSingles Scam, eHarmyony Review, eHarmony Complaints, eHarmony Worth It?, Elite Singles Dating App, Elite Singles Dating App Reviews, Elite Singles vs eHarmony, Is EliteSingles A Scam, Should You Try EliteSIngles, Pros & Cons Of Elite Singles, Does eHarmony Have Free Weekends, Is There A Free Trial For eHarmony, How Long Is The eHarmony Free Trial, Can I Pay For 1 Month Of eHarmony, eHarmony 1 Month Subscription, Why Is eHarmony So Expensive, Can I Cancel My eHarmony Subscription After 1 Month, Does eHarmony Charge Monthly, Does eHarmony Have A 3 Month Subscription, How Much Is Elite Singles A Month, Can You Pay Elite Singles Monthly, Is Elite Singles Worth The Cost, Is Elite Singles A Good Dating App, Which Is Better Elite Singles Or Match, How Much Is EliteSingles Monthly, What Is The Success Rate of Elite Singles, Elite Singles Consumer Affairs Reviews, Elite Singles Reviews Yelp, Is Elite Singles A Legit Dating Site, Elite SIngles Pros And Cons, Elite Dating, Elite Dating Site, Elite Dating App, eHarmony Reviews, eHarmony Dating Site, eHarmony Complaints, eharmony vs Match.com, eharmony vs matchmakers, Is EliteSingles A Con, Is EliteSingles A Good Dating App, Elite Singles Reviews Consumer Affairs, Elite Singles Reviews Reddit, Pros And Cons Of EHarmony, Eharmony Reviews Complaints, Eharmony Reviews Reddit, Eharmony Horror Stories, Is Eharmony Really Worth It, Does Anyone Still Use EHarmony, Eharmony Success Rate, EliteSingles Review, Elite Singles Reviews Complaints, Is Elite Singles A Con, Is Elite Singles A Scam, Is Elite Singles A Ripoff, Which Is Better EHarmony or EliteSingles, Elite Singles App, Elitesingles Pros And Cons, Worst Online Dating Sites, Elite Singles Cost, Elite Singles Price, Elite Singles Free Trial, Is Elite Singles Free, EliteSingles.com Review, Elite Singles Pricing,