San Francisco Dating Coach For Men & Women; Online + Offline
San Francisco Bay Area Dating Coach For Men, Women: Dating Coach For Women, Online Dating Coach, Dating App Coach For Introverts, Successful Women
Whether you are newly single, new to the city or have struggled to meet people organically out and about or through dating apps, I help individuals who are looking to meet more, quality folks organically with an exhaustive makeover of their online dating profiles and their offline approaches (think of me as a digital version of Hitch without the slapping).
Read about me in the NYTimes, WSJ. I was approached by Match group to work for them a while back, but declined, so I can maintain complete autonomy and provide unbiased advice for clients. As an online dating coach, I accept less than 30% of applicants these days, so I can focus on those that are actually ready to put in the work and treat this as a partnership, rather than outsourcing their dating efforts.
As a dating app coach, most of my clients come from major cities like LA, NYC, Chicago, Washington DC, Seattle, Philadelphia, Austin, Boston, London, Vancouver, Sydney, Melbourne, Stockholm and beyond. If you are looking for someone to blow sunshine up your ass, please stop reading. I am not going to lie to you, my focus is not to make you feel good about yourself. My only focus is to help you become a better dater. 
Overview of dating services for men, women here. Dating profile consulting services here.
TL;DR, These are the areas I focus on…
You: Vocal Intonation, Grooming, Hygiene, Wardrobe, Hobbies, Interests, Lifestyle Choices, Posture, First Impressions, Availability, Biases, Hang-Ups
Apps: App Comparison/Choices, Photos, Bios, Prompts, Captions, Swiping, Filters, First Messages, Likes, Screening Profiles, Timing, Algorithms
Offline: Location, Filters, Preferences, Where To Go, Where To Sit, What To Say, How To Get Guys To Approach You/Talk To You
Judgment: Reading People, Cutting Out Time-Wasters, Date Planning, Reading Into Messages, Understanding Manipulative Behavior & ID'ing Fuckboys
Ideal Clients: Self-Aware, Willing To Put In The Work, Patient, Growth Mindset, Balanced Lifestyles, Low Egos, Empathetic, Relationship-Focused, Realistic Expecations
Dating Coach For Men, Women + Dating App Coach+ Offline Dating Help: Why am I different? Styling, Bios, Texting, Date Ideas, Advice, Appearance, Etiquette, Hobbies, Interests & More – How To Meet People Organically, Offline
-No other dating coach has the visual eye for photos that are unique, approachable, authentic, candid and vulnerable yet shows people confident in their own skin (no photoshop or filters here!)
-No other dating coach is as data driven as me but yet values and prioritizes serendipity, things that can't be quantified like simple luck, focus, effort, energy levels, eye contact and good timing.
-No other dating coach is as intimately familiar with each top dating app and is able to dissect them to figure out which ones are best for you (if any). 
-No other dating coach knows how to ask the tough questions to identify blind spots, work on opportunities to shine.
-No other dating coach will analyze posture, style, hobbies, interests, communication, lifestyle choices, hygiene, grooming habits, religion, politics, writing skills, facial expressions, first impressions, vocal intonation and personality like I do.
-I don't use paid ads, nor rely on my looks and charm like other coaches who are great salespeople. 
While other coaches and online dating experts rely on studies, theoretical scenarios, rigid structures/formulas, their charm or appearance, I rely on real-world experiences, blending qualitative and quantitative data, unknown information, human choice, personalities, things that can't be captured in data, demographics and of course you and your own unique experience and situation.
I am agnostic when it comes to offline methods, dating apps or sometimes matchmakers. I will break down the pros and cons of each for you. Having lived in San Francisco, Los Angeles and New York and having spent significant time traveling to places like Seattle, Portland, Chicago, Boston, London and beyond. 
As a person of color and someone who was a bit nerdy and introverted in my early 20s, I learned to be more outgoing, embraced apps and optimized my opportunities offline by learning how to improve my appearance, communication skills, confidence and social skills. Read more about me here.
Related reading: Online vs. Offline Dating  | Dating Apps vs. Matchmakers
San Francisco Dating Coach For Men, Women, Dating Coach For Women, Men Silicon Valley, San Francisco Bay Area, Dating Coach Bay Area, Dating App Profile Consultant, Dating App Coach, Online Dating Consultant
I offer help in these areas for men and women:
-Taking online dating photos (custom shoots based around your lifestyle, who you want to attract)
-In depth dating profile critiques (app choice, strategy, timing, first impressions, first messages, date ideas)
–Virtual consulting services: (virtual or in person: understanding dating patterns: not getting second dates, conversation skills, body language, reading people, screening profiles, attracting more quality people, avoiding time-wasters)
-In-person live sessions: Going to bar, café or social settings and teaching you how to approach people organically, how to read people, what to order, where to sit, how to start conversations and how to be comfortable in your own skin. These sessions feel like you are hanging out with a friend, but with a mock date feel.
–Date observations: This is where I observe actual dates in person (both you and your date) from a distance. From awkward welcomes, body language, behavior when you leave the table to get a drink/use the washroom, to ending dates and goodbyes. I am discreet as they come.
More on dating services here.
My approach, philosophy:
I believe in hard work, self-awareness, patience and building a foundation that will allow for sustainable success. If you are looking for a cheerleader to make you feel good, hacks, PUA material or someone to make empty promises, please stop reading and look elsewhere. Testimonials below.
I am not one of those dating coaches who are still single themselves (many of them are and have been for a while)
I am not here to make empty promises nor take you on as a client if I don't think I can help you attract higher quality people.
My focus is not only helping clients but improving the dating pool; as such, 70% of inquiries are turned down
You won't find photoshopped glamour photos of me on this site or in the press (I believe in honesty, substance, and authenticity)
You will get to work with me directly and not an assistant nor an apprentice. 
Online Dating Consultant: Help With Online Dating (Hinge, Bumble, The League, CMB, Match & More)
I offer 1 on 1 coaching with a focus on image consulting, wardrobe styling, grooming, posture, location, (and their effect on marketability), swiping etiquette, timing, app choice, first messages, photo order, appearance, filters and paid services.
I will help you understand and leverage education, personality, ethnicity, lifestyle choices such as religion, politics, education, family planning. As seen in the NYT, WSJ, Bumble & More.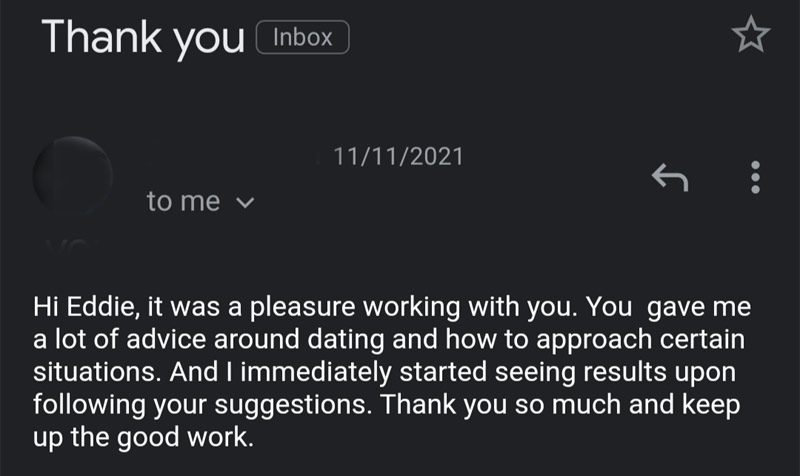 Below is a rough framework from which I evaluate you as an individual and develop a strategy to refine strengths and work on weaknesses.
Appearance: First Impressions, Posture, Facial Expressions, Facial Hair, Hygiene, Hair Color, Hairstyle
I will use our in-person meetings to analyze vocal pitch, eye contact, posture, grooming habits, facial expressions and first impressions.
Whether sitting at a bar stool, booth, chair or standing, I will provide feedback on favorable hairstyles, grooming habits, seated and standing positions and general first impressions with eye contact, greetings and more.
Wardrobe: Styling, Outfits, Accessories, Colors, Fit, Grooming, Tattoos, Piercings
In this offering, I will analyze your current wardrobe to suggest colors that stand out while complementing your skin tone, offer suggestion on where to shop based on lifestyle and budget, offer ways to use accessories to help you stand out and get noticed.
Men's Styling Guide  |  Women's Styling Guide
Online Dating Apps: App Choice, Photos, Bios, Conversation Starters, Prompts, Timing, Strategy, Algorithms
Based on your demographics including age, gender, orientation, location and other items, I will recommend the top 2-3 apps to use along with suggestions for photos, prompts/bios, conversation starters, best practices for timing on messaging and more.
For in-person consultations, I will take your photos to complement and add to your existing set of photos for particular dating apps (4-6 unique photos of yourself are recommended on most apps).
Offline Approach: Curated List of Events, Bars, Restaurants, Cafés, Museums, Classes, Date Ideas & More
Based on your location, age, and lifestyle I will work with you to identify opportunities to meet people based on one-off, seasonal and recurring events, classes and activities.
Whether you are an outdoorsy person, new to the city, an introvert, think you already know all the best bars, cafés, live music venues and restaurants, I will provide my list of places I have researched, visited and continually curate for over 1o years living here in San Francisco.
These suggestions will be great ideas for solo exploration, activities with a friend, or meeting new people like yourself who have yet to develop a strong social circle.
Offline Strategy: Body Language, Conversation Starters, Where To Sit & Stand, Date Ideas, How To Get Guys To Approach You 
Understanding where to sit and stand at bars and cafés is something you will never go back to ignoring after meeting with me. Finding subtle but specific open-ended questions and comments to initiate a conversation is a skill I will help you craft if you are nervous or shy about boldly walking up to a stranger.
I will provide a list of publications, blogs, social media accounts etc. to read and follow to stay up to speed with your area and also provide content to help you hold conversations more easily.
If you have anxiety around planning dates, this is for you. Dates involve research, planning, familiarity with areas and operations as well as logistical aspects of timing, hours of operations, lighting, noise, seating arrangements and more.
Decision-Making Process: Questions To Ask, Reading People Online and Offline, Red Flags, Overly Investing Yourself In People Too Quickly, Easily
For those that always date the wrong person, have trouble reading red flags or continually fall for the same type, I will go over your decision-making process to help you be more selective, ask better questions, identify dates and opportunities to really learn about a person in more detail than your casual, superficial dates.
Knowing how to avoid, abrupt defensive language like 'What are you looking for', 'How long have you been on this dating apps', 'Have you been in any long-term relationships' and how to ask these in a more casual, indirect yet definitive manner.
Personality, Lifestyle Choices, Geography, Preferences, Deal-Breakers, What Do You Seek / Want To Attract
Dating is a numbers game to an extent, and the more you focus on trying to find a unicorn and develop unrealistic expectations, the more likely you are to prematurely dismiss great people and ignore serendipitous opportunities to meet people in your everyday life.
How To Meet Men, How To Meet Women Offline, In Person, Near Me
In my coaching sessions, I will review your locations and find activities, bars, and events to meet people organically and offline. Everything from body language, indirect language for those a little shy, where to sit, how to dress, questions to ask, and how to make yourself more marketable (grooming, facial hair, vocal intonation, and more).
Sessions can be live (at bars, cafés) or remote. These are organic, straightforward approaches – no games here. My focus is on approachability and directness.
APPLICATION PROCESS, DETAILS & COST FOR DATING COACH SERVICES FOR WOMEN, MEN, SAN FRANCISCO BAY AREA – LIVE DATING COACH
Send me a note through the contact page on my website. Please specify what you have done in your life, where you think you struggle, and how I think I can help, and I will get back to you if there is a mutual fit.
I work with folks of good moral character, and I use an extensive background check process to make sure are able to improve the dating pool beyond yourself. I typically accept less than half of the people who contact me as I focus on those who are honest and sincere with their intentions AND willing to put in the work and view this as a partnership rather than an outsourcing effort.
All my offerings are customized based on where I think I can help you the most. I don't offer cookie-cutter modules or rigid step-by-step programs, nor do I want to waste my time or yours with services that don't make sense to you.
Consultation is done over video (Google Hangouts) or in person. To expedite the process, I will ask for details to help me get a sense of who you are: photos (appearance, wardrobe), screenshots (dating profiles), efforts (app choices, strategy), and interests (hobbies, classes, travel). 
For online dating profile help, check out my dating profile critique here.
Be sure to check out my blog with tips to improve your dating life (offline and online). 
**If having trouble, use any of these forms: Typeform  |  Google Form  |  Airtable**
Dating Profile Consultant, Dating Profile Expert, Dating Help, Dating Coach For Females, Online Dating Profile Coach, Online Dating Profile Consultant, Dating Coach For Engineers, Dating Coach For Introverts & Successful Women
How To Hire A Dating Coach? Are Dating Coaches Worth It? Do Dating Coaches Really Work? How To Find A Dating Coach
There are many coaches out there and not all of them are great or even decent. Some coaches have never used apps, some are super attractive and don't know what it's like to be an average guy or girl. Others are still single themselves. Many are great salespeople.
Make sure to read reviews, ask friends for referrals, ask for a consultation. Ignore those that make outlandish claims. Avoid those with few reviews or feel like friends or business partners that wrote reviews themselves.
I am a self-proclaimed data geek (data analytics and strategy professional who left after a decade). I worked in tech and with engineers all my life. I used apps myself and don't consider myself attractive nor a salesperson.
My goal is not to get you to sign up for services or any subscription. In fact, I will do my best to talk you out of it because I only want to work with people I think I can help, buy into my philosophy and are committed to treating this as a partnership.
I am no longer single myself. I am not paid by any dating apps. I am brutally honest and realistic (read my blog for tone, philosophy and approach). I am also a style enthusiast and was raised here in the Bay Area (lived in LA & NYC before coming back). Read more about me here.
Avoid coaches with long-term commitments and subscriptions. I don't want to work with people who I no longer feel I can help, those that don't want to work with me nor those that are not willing to put in the work
There are plenty of other dating coaches that work for specific apps, companies and care more about their brand, media attention and social media followers. If you want the Puff Daddy of dating coaches looking for attention, fame etc, go somewhere else.
My goal is not to make you feel good or give you optimism, it's to help you become a more intentional dater, screen time wasters, improve yourself and help you find what you seek all while being direct and actionable with you.
The Problem With Dating Coaches - Dating Coach Advice
Many dating coaches are attractive and rarely understand context and personal struggles like height, ethnicity, location, appearance, grooming, posture and vocal intonation. In many cases, dating coaches are single themselves and are on apps themselves.
In almost all cases, dating coaches are great salespeople. They make bold claims and are rather vague or assume all people will see results. I don't make such claims because I can't help everyone. That is why I turn down around 70% of applicants. Many outsource their work to assistants, or force you into rigid courses, rather than customize services to your particular needs.
I identify with a majority of my clients because I am an analytical person, am non-white, am not over 6 ft tall and am not a model. I am realistic and practical. I am not here to blow sunshine up your ass.
I am here to leverage your strengths and build on them, help you work on your blind spots and weaknesses and help you reduce costly mistakes while dating even if it means being brutally honest with you.
Dating App Coach: What Should You Look Out For, What To Know When Hiring An Online Dating Coach?
Dating app coaches are those that focus on dating apps. However, as one should know, dating apps and dating app profiles are a reflection of your life (offline, in-person). If you make poor decisions in your life, have bad lifestyle choices, live in remote areas, don't dress well, have bad hygiene or are swiping outside your league, no dating app app coach can help you.
You need a dating coach that can assess all aspects of dating including messaging, grooming, hobbies/interests, geography, facial expressions, body/appearance, tattoos/piercings, etiquette, wardrobe/styling and more.
Dating Coaches vs Therapists, Relationship Coaches vs Therapists? Who Should I Hire?
Many people seek out dating coaches prematurely because they are lonely and wish to find someone to avoid being single. This is not a good reason to date or to hire a dating coach. In cases where there is trauma or issues beyond dating i.e. self-doubt, lack of confidence, depression or anxiety, a therapist may be needed first before considering a dating coach.
You have to learn to date yourself and be happy on your own before you can date others. You have to be complete rather than try to find someone to make you whole. Coaches have real-world experience whereas therapists tend to speak in terms of frameworks, studies, clinical terms etc.
When hiring a dating coach, you should disclose other professionals you have/currently worked with, what issues you are battling (beyond dating as they can affect ability to have success on apps or offline)
Dating Apps vs Matchmakers - Which Is Right For You? Online Dating vs Professional Matchmakers
Dating Coach Rates - How Much Are Dating Coaches? Dating Coach Costs? Dating Coach Prices?
Many dating coaches only offer courses or very expensive packages that range from $5,000-$10,000 or more. These are rigid courses that don't factor things like ethnicity, height, location, preferences, wardrobe, education, hobbies, interests. I offer no obligation sessions. I don't want to work with people who don't see value in what I provide.
Dating Coach For Entrepreneurs, Successful Women & Celebrities (Confidential Dating Coach)
If you are a private person, I am your guy. I maintain complete confidentiality around your personal life, intentions, experiences and lifestyle choices. I work with a range of individuals thave value privacy and want confidentiality.
Dating Coach For Engineers, Introverts
As someone who works with data all day and regularly with engineers in my past profession, I get the mindset that quantitative and analytical minds have. I will balance quantitative and qualitative aspects of dating to optimize your dating efforts.
Dating Profile Critique For Men & Women: Dating Profile Review (Hinge, Bumble)
App Choice, Photo Order, Photo Critique, Bios + Prompts + Photo Captions, Wardrobe Feedback, Grooming Suggestions, Clothing & Hairstyle Recommendations, Body Language, Smiles, Facial Expressions, Hobbies, Interests, Lifestyle Choices, Etiquette & More For Men & Women.
-As seen in the NYT, WSJ, AskMen, Women's Health, Bumble, SFGate, ABC7News & More
—
San Francisco Dating Coach For Men, Women; Offline & Online. Dating Coach, Bay Area, Online Dating Coach San Francisco, Dating Coach New York, BIPOC Dating Coach, Online Dating Consultant, Dating Coach For Women, Men, Professional Dating Consultant
Online Dating Frequently Asked Questions – Dating App FAQ's, Online Dating Tips
Dating Apps vs. Matchmakers – Online Dating vs Professional Matchmaking Services
How To Be Successful In Online Dating – Online Dating Tips For Men, Women; How To Screen Profiles, Improve Profiles, Swipe For Efficiently
Online Dating Resource Guide (podcasts, research, studies, surveys and more)
Common Mistakes Guys Make On Dating Apps – Biggest Mistakes Men Make On Dating Sites
Biggest Mistakes Women Make On Dating Sites – Common Mistakes Women Make On Dating Apps
Is Online Dating Worth It? – Are Dating Apps Worth It For Men, Women
He's Just Not That Into You – Signs He's Not Into You, Why Men Don't Reply, Why Guys Ghost, Do Guys Swipe Right On Everyone?
Signs Of Manipulation While Dating, In Relationships – Manipulative Tactics Used During Dating, By Men, Women
The Best Dating Apps – A Beginner's Guide To Comparing Dating Apps
Best Gay Dating Apps – Best Dating Sites For Gay Men
Online Dating Red Flags – How To Vet Matches, How To ID Red Flags In Dating Profiles, Messages, Date Ideas
Why Am I Not Getting Second Dates – Why You Don't Get Asked On 2nd Dates, Why People Ghost After First Date
Image Consultant San Francisco – Image, Wardrobe Consultant For Women, Men
Online Dating Coach For Men, Online Dating Coach For Women, Online Dating Image Consultant, Personal Dating Coach, Professional Dating Coach For Women, Men; Dating App Expert, Dating App Coach, Dating App Consultant, Best Dating Coach, Dating Coach Online, Personal Dating Consultant, Dating Profile Coach, Dating Coach Silicon Valley,
About Eddie Hernandez
Eddie Hernandez is a dating coach for men & women and a professional photographer based in San Francisco, servicing clients in NYC, LA, Chicago, Silicon Valley, London, Washington DC, Boston, Sydney and beyond as seen in the NYT, WSJ, SFGate, ABC7News, AskMen, Women's Health Magazine & Bumble.
Former analytics professional and former user of dating apps himself, he possesses unique insight into dating app algorithms as well as a keen understanding of dating cultures across various locations, demographics, ages, ethnicities, cultures, genders and orientations.
He provides guidance on app choice, bios, prompts, wardrobe, messaging, image consulting, date planning, screening profiles, ID'ing red flags, weeding out time wasters & creeps and offline tips including lifestyle choices, hobbies, grooming/hygiene, communication skills, confidence, where to go, sit and meet singles. Whether you are a person of color, short guy, introvert, engineer, successful professional or woman over 40, he can help you be more efficient, knowledgeable and effective in your dating life.
Dating App FAQ's | Online Dating Resource Guide | Dating Services  |  New To Dating Apps
Online Dating Expert, Dating Coach San Francisco, Dating Coach Los Angeles, Dating Coach NYC, Dating Coach Bay Area, Female Dating Coach, Male Dating Coach, Male Dating Expert, Female Dating Expert, Bay Area Dating Service, SF Dating Coach, 1 on 1 Dating Coaching, Dating Coach For Guys, Mens Dating Coach, Dating Consultant For Men, Women, Internet Dating Consultant, Best Online Dating Coaches, Bay Area Dating Coach For Women, Men, Male Dating Coach For A Woman, Dating Coach London, Dating Coach Seattle, Dating App Help, Dating App Consultant
Dating Coach, San Francisco Dating Consultant, Dating Coach For Men, Dating Coach For Women, Online Dating Coach, Dating App Coach, Dating Coach Online, Hire A Dating Coach, Dating App Consultant, Dating Coach Bay Area, Bay Area Dating Coach, Dating Coach San Francisco, Dating Coach For Introverts, Dating Coach For Engineers, Dating Coach Austin, Dating Coach Boston, Dating Coach Chicago, Dating Coach San Francisco Bay Area, Dating Coach LA, Dating Coach New York City,