Online Dating Comparison: Tinder vs Bumble vs Hinge, Is Hinge Better Than Bumble? Is Hinge For Dating, Relationships or Hookups? Difference Between Hinge, Bumble
While every dating app claims to be the best, offer something different, not all are what they claim to be. Some are better for certain lifestyles, age ranges, genders and orientations. Some allow any person to send the first message while others require one gender to start conversations.
There is no single best app as everyone has different backgrounds, lifestyles, preferences, deal-breakers. I recommend folks new to dating apps try one app at a time so they can figure if it works for them, make updates to their profile rather than squander opportunities too quickly.
On top of that, knowledge of communication, screening profiles, date ideas, ID red flags, patience, writing skills, self-awareness and cutting off time-wasters are needed to have any chance of success.
Understanding the functionality, user bases of Bumble vs Tinder and the like will help you focus in on the apps that closer meet your needs.
Related reads: Dating Profile Templates  |  Online Dating 101  |  How To Write A Dating Profile
Online Dating Sites: Apps Better Than Tinder, Is Tinder For Hookups? Who Uses Tinder? Tinder Competitors, Compare Dating Sites
In most cases, you will have to eventually try 2-3 apps to see which is best for you, your age, your ethnicity, your education, your deal-breakers and even your height (yes, I do recommend a specific app if you are a short guy).
In some cases, app choice is obvious, in other cases, not so much.  Regardless of app choice, make sure you are getting the most out of online dating by reviewing this exhaustive checklist for online dating success.
In addition to using multiple apps, it's important to understand nuances of each app i.e. new user boosts, message limitation, demographics, gender ratios, and intentions in order to gauge pros and cons and see which app(s) are best for you and will help you achieve higher chances for success with online dating.
Related read: Tinder bios and opening line tips.
What Is Hinge? Is Hinge A Good Dating App? How Is Hinge Different From Bumble? How Is Hinge Different From Tinder? Hinge Dating App Overview
Hinge is dating app meant for those seeking relationships and they went as far to make their tagline "designed to be deleted". However, Hinge now has added "intentions" which now allows users to specify what it is exactly they seek i.e. marriage, life partner, LTR. The app claims that their goal is to get people off the app.
More on Hinge intentions here.
Dating App Comparison Chart: Hinge vs Bumble, Bumble vs Tinder, Tinder vs Hinge – Hinge or Bumble 2022, Difference Between Dating Apps, Online Dating Sites Comparison, Dating App Competitive Analysis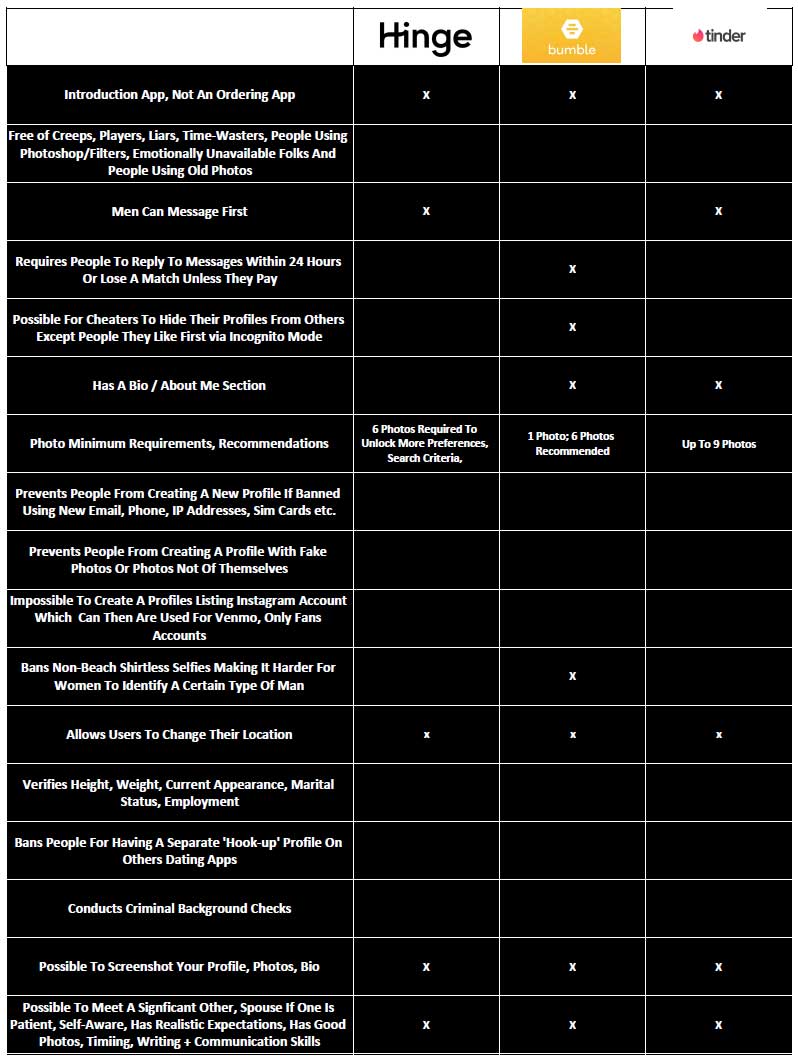 Dating Profile Critique For Men & Women: Dating Profile Review (Hinge, Bumble)
App Choice, Photo Order, Photo Critique, Bios + Prompts + Photo Captions, Wardrobe Feedback, Grooming Suggestions, Clothing & Hairstyle Recommendations, Body Language, Smiles, Facial Expressions, Hobbies, Interests, Lifestyle Choices, Etiquette & More For Men & Women.
-As seen in the NYT, WSJ, AskMen, Women's Health, Bumble, SFGate, ABC7News & More
Hinge vs Bumble: Is Hinge Better Than Bumble? Differences Between Dating Apps? Hinge Pros & Cons, Bumble Pros & Cons
That depends on your age, lifestyle and preferences. Some women hate making the first move. Some guys hate not being able to make the first move and relying on their profile.
Bumble is viewed as a more mature app while Hinge is more for the masses. More on dating app comparisons here.
Related read: Tinder app review
Filtering by Ethnicity On Dating Apps: Hinge, Bumble, Tinder
Currently, only Hinge allows people to filter by ethnicity but it's a premium feature that requires a subscription. For an overview of filters by dating app and subscription type, check out this article.
Related read: How To Get More Matches On Dating Apps
What Makes Bumble Different? What Makes Bumble Different From Tinder? Is Bumble A Good Dating App?
The most obvious is the ability for women to control who messages them but the other thing is demographics. Bumble has fewer bots, spammers and more professional types and better gender ratios for guys.
Similarly, women can control who messages them so that they can limit how many conversations go on at once.
Exhaustive Tinder App Review  |  Exhaustive Bumble App Review
Is Hinge For Dating or Hookups? Is Hinge A Hookup App? Is Bumble Just for Hooking Up?
Both apps are geared to more relationship-type people but some guys use it to hookup as it gives a false sense of security to some women. With any dating app, it's merely an introduction tool not an ordering app. Patience is required to learn about the other person.
Dating is typically viewed as a background check – don't rely on apps to screen people or people to tell the truth 100% of the time. Just because a guy wants a relationship, doesn't mean he will hookup and ghost you if presented the chance.
Read: Is Bumble A Hookup App
Is Hinge For Serious Relationships & Dating? Hinge Dating App
It can be but the prompts and audience lends itself to a younger audience (on average) compared to Bumble.
The ability to screen profiles, read people, ask questions, spend quality time and ID red flags easily is paramount. 
Learn how to identify signs of manipulation while dating here.
Related read: Online Dating Tips For Beginners
Are Guys On Hinge Looking For Relationships?
Some are, some are not. It's up to you to screen profiles, read people, use good judgment and not take people for their word.
Too many people treat dating apps like ordering apps, this is not Burger, you don't get things your way. These are merely introduction & discovery tools.
Pro-tip: learn how to decode dating profile meanings, intentions here.
Is Tinder Only For Hookups? Is Bumble Better Than Tinder? Is Hinge Better Than Tinder? Differences Between Dating Apps
While it is viewed as a casual dating app, it's sometimes the only option in smaller towns, more rural areas where there are no users on Hinge or Bumble. I have known people who have met their partner or spouse on Tinder but it does require more patience due to fake profiles, gender imbalance and audience.
Hinge vs Bumble Reddit, Bumble vs Hinge 2020, Hinge vs Bumble 2021, Is Hinge More Serious Than Tinder?, Is Tinder or Bumble Better? Is Hinge or Bumble Better? Is Tinder or Bumble Better For Guys? Is Hinge or Bumble Better For Girls? Is Hinge More Serious Than Bumble?
Related read: Is Bumble a Hookup App?
Is Hinge or Bumble Better? Is Hinge Or Bumble Better For Relationships? Is Bumble Better Than Hinge?
That depends on who you ask and their gender, age, profession, photos, height etc.
Bumble is slightly more superficial and has Incognito mode which women like for privacy as do men who like to use it to cheat on their partners but Hinge has better prompts and allows men to send the first message first which is more advantageous if they are good at writing and don't want to rely solely on their photos to get noticed by women.
Both apps have people seeking relationships and people seeking hookups. Analyze people's photos, prompts, bios to get a better idea of their intent, effort, first impressions etc.
If you don't know how to do this, seek out a dating consultant or someone who can help you ID red flags, analyze first dates and behaviors of matches to see what their motivation and goals are.
Do Guys Prefer Bumble Or Tinder? Which App Is Better? What Dating App Is Better Than Tinder?
Some guys like Tinder more because it's more casual and they can make the first move. Other people like Bumble because of better gender ratios, better quality girls, less bots. It's up to you.
What Age Group Is Hinge For? What Age Group Is Bumble For?
It's mostly 25-45/50 but there are people older than that on the apps but it does thin out.
Bumble vs Hinge For Guys, Is Bumble Good For Guys? Hinge Review From A Guy
Guys can't send first messages on Hinge so unless your photos are fantastic, stick with Hinge. Similarly, not all matches on Bumble send messages, so make sure your profile has conversation starters.
Is Bumble Better Than Tinder For Dating? Difference Between Tinder and Bumble, Tinder vs Bumble, Bumble vs Tinder
The classic debate – Bumble vs Tinder. In some cases, yes Bumble is better than Tinder. In others no. It really depends on your location, lifestyle, age and other factors.
Hinge vs Bumble vs Coffee Meets Bagel, Hinge vs Coffee Meets Bagel, Bumble vs Coffee Meets Bagel
Read this to learn more about CMB.
What Free Apps Are Better Than Tinder? Apps Like Tinder But Free, Tinder vs Bumble
No apps are because all good apps have some form of a freemium model. Absolute free apps are garbage and a waste of time. They are filled with scammers, bots and creeps.
Is Bumble Better For Guys? (Than Hinge), Bumble Complaints, Bumble Review For Guys, Tinder or Bumble For Guys
If you are attractive and in high-demand, yes it can be worth it. You don't have to send countless messages with likes – you can just sit back and gauge interest more clearly with less effort.
Related read: Bumble Profile Tips  |  Hinge Profile Tips
Bumble Review From A Woman, Is Bumble A Waste Of Time, Negatives Of Bumble, Pros And Cons Of Bumble, Bumble Reviews From Woman
Since men can't message first and because not all women message their matches, some guys will use the volume approach and swipe on profiles they have not looked at or may not be interested in.
Don't overly invest yourself in strangers. Similarly, some guys lose interest or stop messaging. Just move on, don't waste your time trying to figure out time-wasters.
A match is just a small flick of the finger – in some cases, they may not have looked at your profile or be attracted to you. The threshold for considering a woman for a hook-up is less than that of one they are considering for a LTR. Remember that.
Related read: He's Just Not That Into You.
Best Dating Apps For Women, Best Dating Websites For Women, Hinge Or Tinder, Tinder vs Bumble For Girls
Read this.
Dating Coach Services - Men & Women
First date ideas, wardrobe styling, places to meet singles, where to sit at bars & restaurants, body language, vocal intonation, eye contact, conversation skills, how to be more approachable, conversation starters, grooming, hygiene, hair, wardrobe, style, hobbies, lifestyle choices, uncovering blindspots, reducing biases, weeding out creeps & time-wasters and more.
Clients from NYC, LA, Chicago, Washington DC, Silicon Valley, San Francisco, Boston, Austin, Seattle, London, Sydney & beyond. As seen in the NYT, WSJ, AskMen, Women's Health, SFGate, ABC7News, Bumble & More
—
Additional Reading Hinge vs Tinder, Bumble vs Tinder, Comparisons, Alternatives; Apps Better Than Tinder, Types Of Guys On Bumble, Hinge, Apps Like Tinder But Free, Bumble vs Tinder For Guys, Girls, Tinder or Hinge
Online Dating Conversation Starters – Dating App Conversation Starters (Hinge, Bumble, Tinder)
Tinder Openers For Guys – Tinder Conversation Starters
Best Bumble Profile Prompts – Bumble Profile Prompt Ideas, Tips, Examples
Best Bumble Opening Lines For Girls – Bumble Conversation Starters
Should You Look Away From The Camera In Your Photos – Looking Away In Pictures
How To Look More Attractive In Your Dating Photos  – How To Look Attractive In Dating Profiles
How To Write A Dating Profile – Tips On How To Write An Online Dating Profile
Biggest Mistakes Women Make On Dating Sites – Common Mistakes Made On Dating Sites
Is Bumble A Hookup App? Is Bumble For Hookups?
Online Dating FAQ's, Beginner's Guide – Dating App FAQ's for Beginners
The League Dating App Review – The League Dating Review
Online Dating Red Flags – How To ID Red Flags In Profiles, Photos & Communications
Tinder vs Match – Tinder vs Match.com, Bumble vs Match
How To Have Success With Dating Apps – Tips On Profiles, Photos, Prompts, Bios, Messages
About Eddie Hernandez
Eddie Hernandez is a dating coach for men & women and a professional photographer based in San Francisco, servicing clients in NYC, LA, Chicago, Silicon Valley, London, Washington DC, Boston, Sydney and beyond as seen in the NYT, WSJ, SFGate, ABC7News, AskMen, Women's Health Magazine & Bumble.
Former analytics professional and former user of dating apps himself, he possesses unique insight into dating app algorithms as well as a keen understanding of dating cultures across various locations, demographics, ages, ethnicities, cultures, genders and orientations.
He provides guidance on app choice, bios, prompts, wardrobe, messaging, image consulting, date planning, screening profiles, ID'ing red flags, weeding out time wasters & creeps and offline tips including lifestyle choices, hobbies, grooming/hygiene, communication skills, confidence, where to go, sit and meet singles. Whether you are a person of color, short guy, introvert, engineer, successful professional or woman over 40, he can help you be more efficient, knowledgeable and effective in your dating life.
Dating App FAQ's | Online Dating Resource Guide | Dating Services  |  New To Dating Apps
What's Better Tinder, Bumble Or Hinge? Bumble For Guys, Tinder Comparison, Bumble Comparison, Hinge Comparison, Tinder Alternatives, Bumble Alternatives, Hinge Alternatives, Bumble App vs Hinge, Bumble App vs Tinder, Difference Between Hinge And Bumble, Difference Between Tinder And Bumble, How Many Users Does Bumble Have? How Many Active Users Are On Hinge, Is Hinge More Popular Than Tinder, Hinge Or Tinder, Tinder Or Hinge, Does Hinge Have A Lot Of Users, Better Than Tinder, Bumble vs Tinder For Guys, What's Better Tinder or Bumble, It's Better Than Tinder, Dating App Competitor Analysis, Bumble vs Tinder For Women, Hinge vs Bumble NYC, Hinge vs Bumble Chicago, Hinge vs Bumble LA, Hinge vs Bumble SF, Hinge vs Bumble Seattle, Hinge vs Bumble Boston, Compare Online Dating, Bumble Competitors, Hinge Competitors, Bumble Ratings, Bumble Alternatives, Hinge Alternatives, Tinder Alternatives, Apps Like Hinge, Apps Like Bumble, Apps Like Match.com, Tinder And Bumble, Tinder vs Bumble, Difference Between Hinge And Tinder, Bumble Comparison Chart, Hinge Comparison Chart, Match vs Tinder, Is Tinder Better Than Hinge, Is Tinder Better Than Bumble, Tinder vs Bumble For Guys, Online Comparison For Dating, Apps Better Than Tinder, Tinder Dating Site, Hinge Review For Guys, Bumble Review For Guys, How Is Bumble Different From Tinder, How Many People Use Hinge, How Many People Use Bumble, How Many People Use Tinder, Pros And Cons Of Tinder, Pros And Cons Of Bumble, Pros And Cons Of Hinge, Tinder vs Match.com, , Dating Reviews Sites, Dating App Competitive Analysis, Is Hinge A Good Dating App, Is Bumble A Good Dating App, Bumble vs Hinge NYC, Hinge vs Bumble LA, Bumble vs Hinge Boston, Hinge vs Bumble San Francisco, Bumble vs hinge For Girls. Bumble vs Hinge 2020, Bumble vs Hinge 2021, Bumble vs Hinge 2022, Is Bumble or Hinge Better For Women, Is Hinge or Bumble Better For Guys, Is Bumble A Good Dating Site For Women, Is Bumble Good For Guys, Is Hinge Good For Women, Is Hinge Good For Guys, Hinge vs Tinder, Is Hinge Better Than Tinder, Hinge vs Tinder 2020, Tinder vs Hinge 2021, Hinge vs Tinder 2022, Does Hinge Work Better Than Tinder, Does Bumble Work Better Than Tinder, Compare Dating Sites, Differences Between Dating Apps, Hinge Pros & Cons, Bumble Pros & Cons, Is Bumble Better Than Hinge, Is Bumble Better Than Tinder,