Tinder Dating Profile Template – Tinder Questions, Tinder Interests, Tinder Profile Fields, Tinder Spotify, Tinder Instagram Sync, Tinder Anthem, Tinder Profile Tips
When it comes to dating apps, people make the mistake of downloading the app and filling it out as they go. While dating profiles are pretty straightforward, people often make huge mistakes that can cost them down the road.
For example, new profiles are boosted upon creation and so if you launch a profile that is poor, lazy or not much thought was put in, you will lose out on possible matches right away. Also, by sabotaging your profile, you will get less views over time as algorithms show you less over time. Below you will see all the components of a Tinder template (profiles) and how to build your own profile.
Related read: How To Get More Likes/Matches On Dating Apps
What Is A Good Profile For Tinder? Tinder Template
A good profile for Tinder is one that is filled out exhaustively, has enough photos, shows you and your appearance, personality and provides details about who you are, what you seek and how you spend your time.
Tinder profiles that have good photos as well as a thought out bio that is unique, informative will get the best results as long as people have realistic expectations when it comes to swiping. Copying and pasting profiles is a great way to get left-swiped easily, quickly.
Related read: No Likes/Matches On Dating Apps
Tinder Profile Template – Tinder Photo Tips – Is 3 Photos Enough For Tinder? What Should Your First Picture Be On Tinder?
Tinder allows users to upload up to 9 photos in a dating profile and forces you to upload at least 1 photo. People often make the mistake of uploading 9 photos and while more is good generally, you will be judged by your worst photo.
What does that mean? It means you should upload photos that are not cringy. It also means you need to show yourself off entirely i.e. close-up, full-body etc. That implies you have at least 3 photos. Unless you are a supermodel, 3 photos is not enough, I generally recommend 4-6 photos for a dating profile.
The rule of thumb is that the photos are well lit, consistent in looks, are all recent and show you entirely, i.e. limiting hats, sunglasses, hiding behind phones and other objects.
Related read: Best Photos For Dating Profiles
Tinder Dating Profile Template – Tinder About Me, Tinder Bio Questions, Tinder Bio Character Length, Limit, Tinder Profile Format
When it comes to the profile questions, Tinder asks several questions. While not all are required questions, the more you fill out about yourself the more information people have to make decisions about you. Dating profiles provide an opportunity for users to convey themselves in a flattering light.
Tinder provides users with 500 characters from which to create a bio or about me and users have been know to use emojis to save on space.
Related read: Tinder Bio Tips, Examples
Should You Use Tinder Smart Photos? Pros And Cons Of Tinder Smart Photos?
Read this.
Dating Profile Critique For Men & Women: Dating Profile Review (Hinge, Bumble)
App Choice, Photo Order, Photo Critique, Bios + Prompts + Photo Captions, Wardrobe Feedback, Grooming Suggestions, Clothing & Hairstyle Recommendations, Body Language, Smiles, Facial Expressions, Hobbies, Interests, Lifestyle Choices, Etiquette & More For Men & Women.
-As seen in the NYT, WSJ, AskMen, Women's Health, Bumble, SFGate, ABC7News & More
Tinder Profile Template – Tinder Interests List – Which Interests To Put On Your Tinder Profile? Tinder Questionnaire, Tinder Questions
Tinder offers users a plethora of interests from which to choose from, which can be used in the algorithms to decide who to show you and when. There are better interests than others to get more likes and matches and clients get a breakdown of how to carefully select these interests.
Related read: Most Attractive Interests for Tinder Profile
Tinder Profile Template – Tinder Profile Questions, Tinder Anthem, Tinder Spotify, Should You Link Spotify To Tinder, Show Instagram Photos On Tinder?
Tinder offers users the ability to sync Spotify and Instagram profiles to accounts. While this provides more info about you, it can also sabotage your efforts if said profiles are unflattering.
Read more here.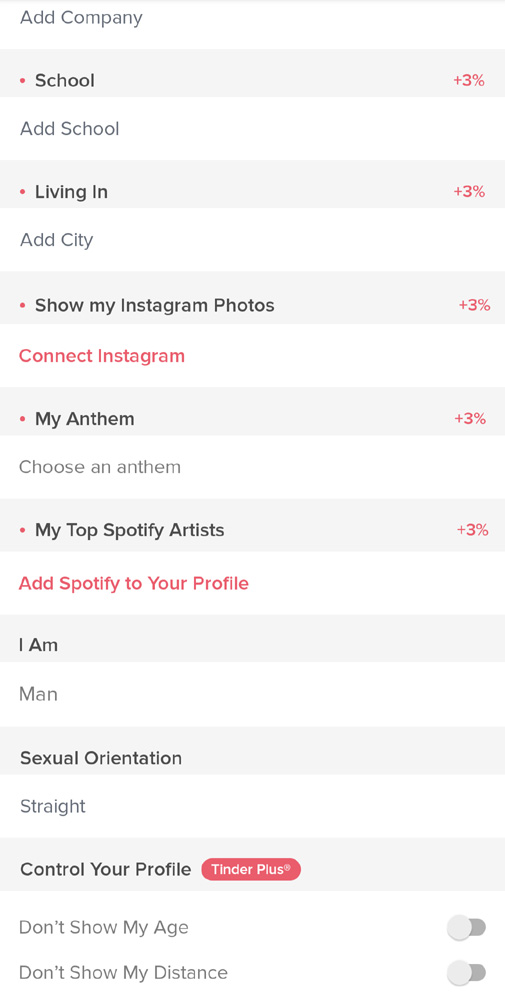 Tinder Customer Support, Tinder Contact Customer Service, Tinder Uploading Photo Errors?
Read this.
Dating Coach Services - Men & Women
First date ideas, wardrobe styling, places to meet singles, where to sit at bars & restaurants, body language, vocal intonation, eye contact, conversation skills, how to be more approachable, conversation starters, grooming, hygiene, hair, wardrobe, style, hobbies, lifestyle choices, uncovering blindspots, reducing biases, weeding out creeps & time-wasters and more.
Clients from NYC, LA, Chicago, Washington DC, Silicon Valley, San Francisco, Boston, Austin, Seattle, London, Sydney & beyond. As seen in the NYT, WSJ, AskMen, Women's Health, SFGate, ABC7News, Bumble & More
Tinder Dating Profile Tips, Tinder FAQ's, How To Make A Good Tinder Profile, Tinder Tips For Men, Women, Blank Tinder Profile Template, Empty Tinder Profile Template, Tinder Profile Template Download
Most frequently asked questions dating app questions – Online Dating FAQ's
How to look more attractive in your dating profile photos – How To Be More Attractive In Dating Profiles
How to write a good dating profile – How To Make A Good Dating Profile
Tinder vs Hinge vs Bumble – Dating App Comparison (Hinge vs Bumble vs Tinder)
What do your dating photos signal? – Dating Photo First Impressions
10 Photos Not To Post For Online Dating – Worst Photos For Dating Profiles
Attractive Hobbies & Interests For Dating Profile – What Lifestyle Choices Are Most In Demand
How To Get More Likes & Matches On Dating Sites – How To Get More Attention On Dating Apps
How To Be More Successful With Online Dating – How To Do Better On Dating Apps
Dating Profile Help: Tips On What To Put In A Dating Profile – Dating App Profile Tips
Best Online Dating Profile Photos For Dating Apps – Best Dating App Photos (Men, Women)
He's Just Not That Into You – Signs He Is Not Interested In You
Biggest Mistakes Men Make On Dating Apps – Mistakes Guys Make Online Dating
No Likes, No Matches On Tinder – No Success On Dating Apps, Struggling On Tinder
About Eddie Hernandez
Eddie Hernandez is a dating coach for men & women and a professional photographer based in San Francisco, servicing clients in NYC, LA, Chicago, Silicon Valley, London, Washington DC, Boston, Sydney and beyond as seen in the NYT, WSJ, SFGate, ABC7News, AskMen, Women's Health Magazine & Bumble.
Former analytics professional and former user of dating apps himself, he possesses unique insight into dating app algorithms as well as a keen understanding of dating cultures across various locations, demographics, ages, ethnicities, cultures, genders and orientations.
He provides guidance on app choice, bios, prompts, wardrobe, messaging, image consulting, date planning, screening profiles, ID'ing red flags, weeding out time wasters & creeps and offline tips including lifestyle choices, hobbies, grooming/hygiene, communication skills, confidence, where to go, sit and meet singles. Whether you are a person of color, short guy, introvert, engineer, successful professional or woman over 40, he can help you be more efficient, knowledgeable and effective in your dating life.
Dating App FAQ's | Online Dating Resource Guide | Dating Services  |  New To Dating Apps
Tinder Profile Template Download, Tinder Profile PNG, Tinder Profile Template Photoshop, How To Make An Impressive Tinder Profile, Tinder Profile Template For Guys, Tinder Profile Template Blank, Empty Tinder Profile Template, Tinder Template, Tinder Bio Character Limit, Tinder Dating Template, Tinder Dating Guide, Tinder, Tinder Questions, Tinder Account Template, About Me Tinder Template, Dating App Template, Dating Website Template, Sample Tinder Profile, Sample Tinder Profile For Girls, Sample Tinder Profile For Guys, Tinder Profile Examples, Tinder Bio Template, Tinder Profile Consultant, List Of Tinder Interests, Tinder Website Template, Tinder Dating Profile Template, Tinder Dating Profile Tips, Blank Tinder Profile, Tinder Interests Lists, Tinder Profile Format, Tinder Questionnaire Template, Best Tinder Interests, Best Interests To Put On Tinder,