Bumble Premium: Price, Features, Trial, Discounts, Is Bumble Premium Worth It? Bumble Incognito Mode, Bumble Premium Subscription Options, Bumble Boost vs. Premium
Bumble is one of the most popular apps on the market. Women love it because they can control who messages them which is a pain point on other apps where men from all over bombard women non-stop.
Some women also hate it for that matter because it's hard to assess interest and intent based on one swipe (some guys swipe right on every profile for efficiency and focus on those they are most interested since they can't send messages).
The basic functionality of the app is free and people can have great success without paying a dime but many people either opt into the paid service because of lack of likes or matches or because they want to utilize some features on the app.
Below is my Bumble Premium review including how much Bumble is, what it can do, who uses it and want to avoid along all the things you should consider before trying the product.
Related read: Bumble vs Hinge vs Tinder
Is Bumble Free? How Much Does Bumble Cost? Bumble Free vs Paid, Bumble Subscription Price, Bumble Premium Price, Is Bumble A Free Dating App? How Much Is Bumble Per Month? How Much Does Bumble Premium Cost?
Bumble is indeed free for the basic functions but there is a lot of anxiety and anxiousness and impatience that drives users to try to hack their way through dating which has resulted in monetization efforts by Bumble and other similar dating app.
It's possible to like, get matches and go on dates for free on Bumble but it can take time as swipes are limited, it can take time to be seen by others, filters/preferences are limited and visibility is limited by those paying for exposure or new profiles getting boosted.
Bumble Premium Cost, Bumble Premium Subscription Price, Bumble Premium Payment, How Much Is Bumble Premium? Bumble Subscription Cost, Bumble Subscription Options, Bumble App Cost, How To Buy Bumble
Bumble Premium price is $39.99/month as of June 2022. It can get low as $19.16/month on a 6 month plan via credit card via the app store.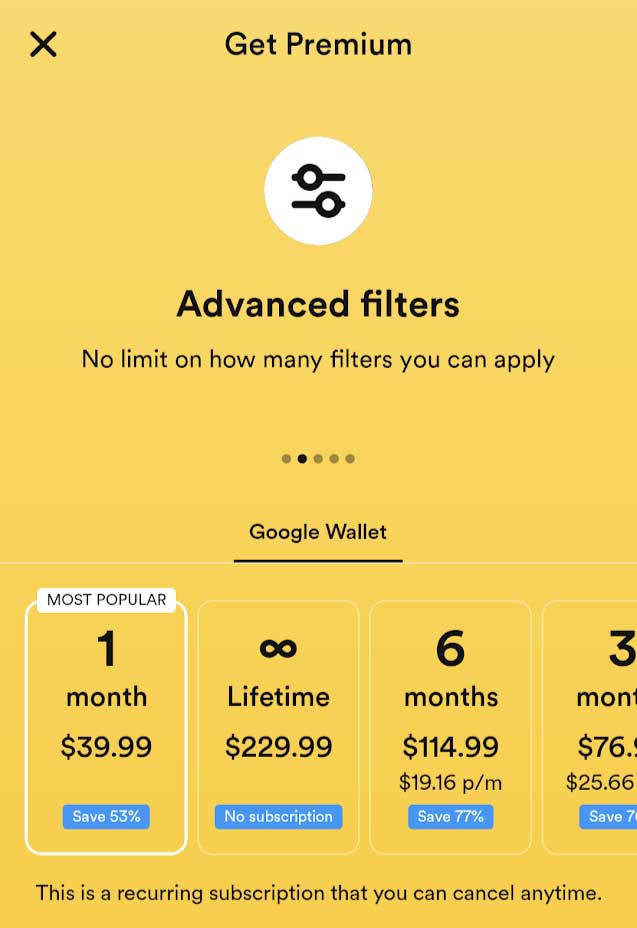 Bumble Boost Features
-Backtrack
-Extend – Bumble Extend
-Unlimited Swipes – Bumble Unlimited Swipes
-Spotlight (1 per week) –  Bumble Spotlight
-Superswipes (5 per week) – Bumble Superswipes
Bumble Premium Features, How Does Bumble Premium Work?
There are several main features of Bumble Premium. Many of these are offered a la carte while Bumble Premium capture most of these features all in one bundle. Those include all the items in Bumble Boost plus these features.
-Incognito Mode – Bumble Incognito Mode aka Invisible On Bumble
-Advanced Filters
-Travel Mode – Bumble Travel Mode
-Bumble Beeline
-Rematch
Bumble Boost vs Bumble Premium, Bumble Boost vs Premium
Bumble Incognito Mode, Bumble Incognito Mode Matches, Invisible On Bumble, How To Be Incognito Mode On Bumble, Is Incognito Mode On Bumble Good, Bumble Incognito Mode Cheating
Incognito mode on Bumble is one of the most popular features on the app. It allows users to remain hidden from the public unless they right swipe on someone first. Even then, there is no guarantee that person will ever see you if they are super popular.
The downside to waiting to show yourself to people is that if other people are using Incognito mode, you won't be shown to them either if you have it activated. Bumble Incognito users can't see other Bumble Incognito users thus limiting their possible likes, matches.
Bumble Incognito mode can hide your profile from exes, colleagues, bosses, and neighbors – for the most part (unless people take screenshots of your profile and share them with others).
Bumble Incognito Mode Cheating – used by married folks to hide their profiles from partners/friends.
Bumble Incognito Mode Not Working – Does Bumble Incognito Mode Really Work? Bumble Incognito Mode No Matches
If Incognito Mode is not working, it's likely because you are no longer a Premium user. If that is not the case, contact customer support to figure it out.
If you are not getting any matches while using Incognito mode, it means your photos are bad, prompts/bio need help, you are swiping outside your league too much (age, distance, looks, ethnicity, education, religion, politics, height etc.) or haven't given it enough time.
Bumble Advanced Filters (Bumble Premium), Free Filters, Paid Filters
When you load up Bumble, there are several filters one can choose from however, not all of them are available to free (non-paid users).
Free filters on Bumble include: Gender interest, age range, distance range, language(s) spoken and verified profiles.
The filters that are available to paid users include: height, exercise, education, drink, smoke, cannabis, intention (relationship, marriage, something casual and don't know yet), do they/want children, star sign, politics and religion.
While these extra filters seem great, not everyone selects all these items in their profile (not all are required). Similarly, not everyone is honest about their intentions, lifestyle choices or demographics (particular age, height). See most common lies on dating apps here.
Bumble Travel Mode
Bumble travel mode allows users to change their location in the app rather than rely on GPS and their phone's location.
Some people use this to change their location if they are in remote areas, some use it in advance of traveling (i.e. hook-up) while others use it to remain hidden from locals i.e. their significant other or spouse. A few use it to assess local options if they are considering moving to a new city.
Bumble Spotlight, What Is Bumble Spotlight, When To Use Bumble Spotlight, Does Spotlight Work On Bumble? Bumble Spotlight vs Boost, Best Time To Use Bumble Spotlight
Bumble spotlight is a feature within Bumble Boost in which a user is boosted on the app for 30 minute increments. Bumble premium users get 1 spotlight each week (use it or lose it). It typically attracts more likes from people you are not interested in, are located far away or those outside your preferences.
There is a strategy on how and when to use it but that information is only available to clients of mind.
Bumble Spotlight Incognito
If you are Incognito, it's pointless to use Bumble Spotlight since no one can see you.
Does Spotlight On Bumble Work? Bumble Spotlight No Matches, Is Bumble Spotlight Worth It? Bumble Spotlight Not Working
Spotlight is useless if you live in remote areas, have bad photos, awful prompts, are swiping outside your league, have a terrible bio or are swiping right on people outside of your league or with incompatible lifestyles. Bumble Spotlight doesn't make you more attractive, or interesting, nor does it improve your smiles, prompts, wardrobe or bios.
Any additional likes are likely from those far away, traveling or people with different lifestyle choices and preferences
More here.
Free Spotlight On Bumble?
It is included with a paid Premium account on Bumble
Dating Coach Services - Men & Women
First date ideas, wardrobe styling, places to meet singles, where to sit at bars & restaurants, body language, vocal intonation, eye contact, conversation skills, how to be more approachable, conversation starters, grooming, hygiene, hair, wardrobe, style, hobbies, lifestyle choices, uncovering blindspots, reducing biases, weeding out creeps & time-wasters and more.
Clients from NYC, LA, Chicago, Washington DC, Silicon Valley, San Francisco, Boston, Austin, Seattle, London, Sydney & beyond. As seen in the NYT, WSJ, AskMen, Women's Health, SFGate, ABC7News, Bumble & More
Bumble Superswipes – Do Superswipes Work On Bumble? Are Superswipes Worth It On Bumble?
A Bumble Superswipe is a feature to stand out from other likes. It allows users to show you that they super liked you. It is a rather desperate and cringy feature. It can work for some folks that crave attention and are insecure and shallow but most people ignore it as it means nothing without effort, action and sustained interest.
Read more on Bumble Superswipes here.
Free Bumble Superswipes
Bumble use to give away a few free swipes on older accounts but not anymore. You don't need superswipes if you are not swiping outside your league or if your profile is optimized and you have realistic expectations.
Bumble Extend – Should You Extend On Bumble?
Bumble extend allows people to extend 24 hour periods other people have to respond to likes or matches. Typically, extending is a bit desperate as people who like you and are focused will respond accordingly. Those that are too busy or don't take things seriously are those that are more likely to take action on these extensions.
Bumble Backtrack – How Do I See Someone Again On Bumble?
If you accidentally left-swiped someone, you can undo the lef-swipe and see the person's profile again and change your mind and right-swipe on them.
Bumble Rematch – Is It Weird To Rematch On Bumble
In case matches expire, you have the ability to rematch with someone. Yes, it can be weird, desperate.
Bumble Beeline
This feature allows you to access your beeline sooner so that you can see how liked you right away. This is key because timing is important when it comes to matches. People who are in high demand get off the app quickly.
Bumble Unlimited Swipes
Pretty self-explanatory. Free version of Bumble limits your swiping but you can swipe as much as your heart desires with it. With that said, knowing good swiping etiquette is key so you can manage likes and matches efficiently and not get dinged by the algorithm for swiping too much, too quickly or too often outside your league.
Unlimited swipes is useless without optimizing your profile first, so keep that in mind.
Bumble Premium May 2022 – 25% Off Bumble Premium Discount Offer, Trial, Bumble Premium Trial
Noticed that the increase in likes is in bold but the fine print notes that it's for the top 10% of users. If you are reading this, you are likely not anywhere close to the top 10% of users and so results will likely be significantly worst for the average user (boosts don't make you more interesting nor attractive).
Similarly, more matches means nothing if you are being shown to people far away, outside your preferences and deal-breakers or those you are not interested in.
Bumble Spotlight – June 2022 Discounted Offer, Trial 1 Day, 30 Minutes
Bumble Lifetime Premium, Bumble Lifetime Subscription, Lifetime Bumble Premium, Is Bumble Lifetime Worth It, Bumble Lifetime Subscription Price
Bumble offers a lifetime premium account for $229.99. It can be a waste of money if you need to reset your account with a new profile.
How To Cancel Bumble Premium, How To Cancel Bumble Subscription, How To Cancel Bumble Boost
Read this. Deleting the app does not delete your account now does it stop recurring billing from happening. Most subscriptions are handled in the app store on Google or Apple which is independent of the Bumble app.
Is Bumble Boost Worth It? Is Bumble Premium Worth It? Does Bumble Premium Work? Does Bumble Premium Make A Difference, Is It Worth Paying For Bumble?
That largely depends on you, your profile, your photos, your prompts, your lifestyle choices, your swiping strategy, your location, your self-awareness, your height, your appearance, your job, your education, your politics etc. Everyone is different.
It can be worth it in some scenarios and for some people but not for all. It can help you to see and connect with people sooner but only if you invest in your profile first and are strategic and have self-awareness. In my coaching sessions I break down all the features and recommended if it's worth it or not for you and your situation.
Can You Tell If Someone Has Bumble Premium?
Yes, if they have travel mode activated, you can assume they have Bumble Premium otherwise, no you cannot tell.
How To Change Location On Bumble? 
Get Bumble Premium to activate Travel Mode. There are other ways to do so but only clients get access on how to do so.
Related read: Bumble Location Settings
Buy Bumble Premium Online, Bumble Premium Payment Options
If you log into your account on desktop or mobile browser, you can pay for Bumble with credit card, venmo or paypal.
How To Get Free Bumble Premium? How To Get Bumble Boost Free Trial, How To Get Bumble Free Trial, How To Get Bumble Premium Free? Bumble Premium Free Trial
Find a sponsor.
Can People See If You Have Bumble Premium? Can People Tell If You Have Bumble Premium?
Yes if they see you used some features of Bumble Premium like extend. Could also tell if you send compliments to them and their friends the same day (if they are friends and talk to each other).
People can also tell you have Bumble Premium if you activate Travel Mode aka Bumble Incognito Mode.
Can You See Matches On Bumble Without Paying, Why Can't I See Matches On Bumble?
Yes, depending on your filters. Sometimes if matches fall outside your filters, you won't see them i.e. distance.
Online Dating Consultant: Help With Online Dating (Hinge, Bumble, The League, CMB, Match & More)
I offer 1 on 1 coaching with a focus on image consulting, wardrobe styling, grooming, posture, location, (and their effect on marketability), swiping etiquette, timing, app choice, first messages, photo order, appearance, filters and paid services.
I will help you understand and leverage education, personality, ethnicity, lifestyle choices such as religion, politics, education, family planning. As seen in the NYT, WSJ, Bumble & More.
Why Do I Have To Pay For Bumble?
You don't have to. Who said that? You don't have to pay for Bumble.
How To See Who Liked You On Bumble Without Paying? Can I Match On Bumble Without Paying? Can I Use Bumble Without Paying?
Swipe right on everyone. The people you matched with are those that liked you. You can match with people for free on Bumble – don't need to pay to get matches on Bumble. 
Is Bumble Worth Paying For? Is Bumble Worth It Without Paying? Is Free Bumble Worth Using?
Bumble can be worth it for the additional filters alone, but the free version is fine if you are patient, self-aware, have a great profile and know how to navigate the app effectively. Payig for Bumble doesn't make you more interesting, nor more attractive. Sending superswipes or extending matches rarely is worth it.
Dating Profile Critique For Men & Women: Dating Profile Review (Hinge, Bumble)
App Choice, Photo Order, Photo Critique, Bios + Prompts + Photo Captions, Wardrobe Feedback, Grooming Suggestions, Clothing & Hairstyle Recommendations, Body Language, Smiles, Facial Expressions, Hobbies, Interests, Lifestyle Choices, Etiquette & More For Men & Women.
-As seen in the NYT, WSJ, AskMen, Women's Health, Bumble, SFGate, ABC7News & More
About Eddie Hernandez
Eddie Hernandez is a dating coach for men & women and a professional photographer based in San Francisco, servicing clients in NYC, LA, Chicago, Silicon Valley, London, Washington DC, Boston, Sydney and beyond as seen in the NYT, WSJ, SFGate, ABC7News, AskMen, Women's Health Magazine & Bumble.
Former analytics professional and former user of dating apps himself, he possesses unique insight into dating app algorithms as well as a keen understanding of dating cultures across various locations, demographics, ages, ethnicities, cultures, genders and orientations.
He provides guidance on app choice, bios, prompts, wardrobe, messaging, image consulting, date planning, screening profiles, ID'ing red flags, weeding out time wasters & creeps and offline tips including lifestyle choices, hobbies, grooming/hygiene, communication skills, confidence, where to go, sit and meet singles. Whether you are a person of color, short guy, introvert, engineer, successful professional or woman over 40, he can help you be more efficient, knowledgeable and effective in your dating life.
Dating App FAQ's | Online Dating Resource Guide | Dating Services  |  New To Dating Apps
Bumble Premium vs Boost, Is It Worth Getting Bumble Premium, How Much Does Bumble Premium Cost, What Does Premium Mean On Bumble, Does Bumble Premium Make A Difference, Lifetime Bumble Premium, Bumble Premium Features, Bumble Premium Pros & Cons, Bumble Premium Payment, Is Bumble Free, Bumble Boost vs Premium, How To Get Bumble Free Trial, How To Get Bumble Free Premium, How To Cancel Bumble Subscription, How To Cancel Bumble Boost, What Is Bumble Boost, How To Get Bumble Premium Free, Bumble Premium 1 Day, Bumble Premium vs Free, What Does Premium On Bumble Do, Can You Get Bumble Premium For Free, Bumble Premium Discount, Does Bumble Premium Work, Is Bumble Premium Worth It, Bumble Lifetime Subscription, Bumble Lifetime Subscription Discount, Bumble Pricing, Is Bumble Lifetime Worth It, Bumble Premium Lifetime, Bumble Lifetime Subscription Price, Bumble Subscription Options, Bumble Lifetime Subscription Review, How To Get Bumble Boost Free Trial, Bumble 50% off Premium, How To Get Bumble Free Premium, Bumble Free vs Paid, Bumble Subscription Cost, Bumble Subscription Price, Bumble Premium Price Increase, Bumble Cost, Bumble Lifetime Discount, Bumble Premium Trial, How Much Does Bumble Cost, How Much Is Bumble Per Month, Cost Of Bumble, Bumble App Price, Bumble App Cost, Is Bumble A Free Dating App? Is Bumble A Free Dating Site? Can I Use Bumble Without Paying? How Much Does Bumble Cost? How Much Does Bumble Boost Cost? How Much Does A Bumble Subscription Cost? Bumble Membership Cost, Bumble Monthly Fee, Buy Bumble Premium, Bumble Dating Cost, Is It Worth Paying For Bumble, How Much Is Bumble, How Much Is Bumble Premium, How Much Is Bumble Per Month, Bumble Premium Sale, Bumble 50 Off Premium, Cost Of Bumble Premium, Bumble Monthly Subscription, Bumble Subscription Tiers, Bumble Subscription Levels, How To Buy Bumble, How To Get Free Bumble Premium, Bumble Premium Free Trial, Precio De Bumble Premium, Bumble Premium Charges, Bumble Premium Plans, Bumble Premium Deal, Bumble Monthly Cost, Bumble Subscription Plans,