Do They See Compliments? How Much Do Bumble Compliments Cost, Bumble Compliments Per Day, Feature, How Many Bumble Compliments, Examples, Compliments vs Super Likes
Bumble has always proclaimed to be a woman first dating app, giving them the power to decide who can message them on the app. Other apps were notorious for bombarding women with too many messages and too many unwanted/crude messages. Bumble aimed to improve the experience for women, in turn, improving the experience for all.
What Are Bumble Compliments?
Well, that has changed, sort of. Bumble has launched a new feature called 'Compliments' whereby men can send a compliment along with a like (similar to how you can send a comment with likes on Hinge.
This tool, in theory, should help make it easier for women to weed out low-effort guys by focusing on those that send compliments on the app (vs likes alone). It's common knowledge that men, on average, swiped right on more profiles on Bumble because 1) they couldn't send comments to stand out, 2) weren't penalized by the app for sending out too many likes, and 3) know that not all matches send messages to them.
This shift was a long time coming for Bumble as women would often complain that guys don't reply or guys put in low-effort on the app. Hopefully, with compliments, that will change or at least improve slightly.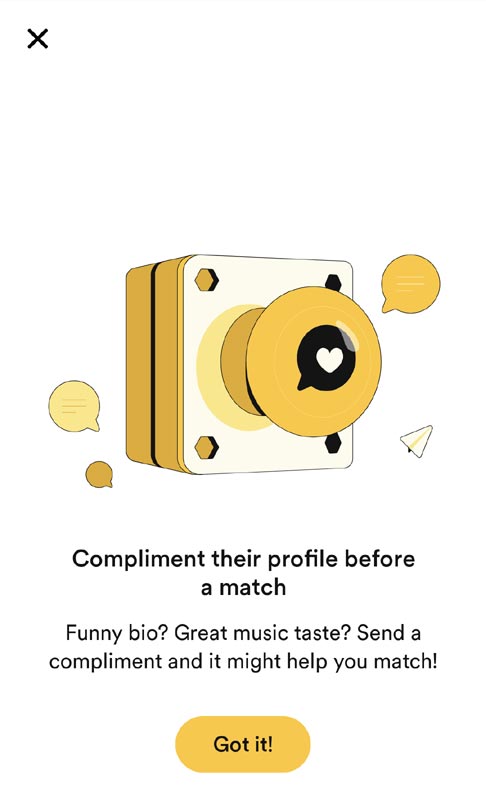 Online Dating Consultant: Help With Online Dating (Hinge, Bumble, The League, CMB, Match & More)
I offer 1 on 1 coaching with a focus on image consulting, wardrobe styling, grooming, posture, location, (and their effect on marketability), swiping etiquette, timing, app choice, first messages, photo order, appearance, filters and paid services.
I will help you understand and leverage education, personality, ethnicity, lifestyle choices such as religion, politics, education, family planning. As seen in the NYT, WSJ, Bumble & More.
How Do Compliments Work On Bumble? Bumble Compliment Character Limit? How To Send A Compliment On Bumble?
Once you tap the heart button on a photo, bio or prompt on Bumble, it will take you to a new screen where you can scroll the carousel of photos and prompts and choose which one to compliment on. This allows you to provide more context on what exactly about their prompt or photo jumped out to you. 
Character limits for Bumble compliments are 150 characters, so not much to work with. Be creative, unique. Focus on prompts and photos that resonate most with you, but also those that are likely not being overly commented on by others (repetition is boring). Sending a compliment is basically the equivalent of a right swipe on the app.
Do Women See Compliments On Bumble? How To See Compliments On Bumble?
When a user comes up in the queue, the person will be able to see any compliments attached to the like. Women can either respond to the compliment or start a new conversation. Unfortunately, this may not cut down on the hi/hey opening lines women use on Bumble, lol.
Go to the beeline and see the compliments there.
Dating Profile Critique For Men & Women: Dating Profile Review (Hinge, Bumble)
App Choice, Photo Order, Photo Critique, Bios + Prompts + Photo Captions, Wardrobe Feedback, Grooming Suggestions, Clothing & Hairstyle Recommendations, Body Language, Smiles, Facial Expressions, Hobbies, Interests, Lifestyle Choices, Etiquette & More For Men & Women.
-As seen in the NYT, WSJ, AskMen, Women's Health, Bumble, SFGate, ABC7News & More
How Many Compliments Per Day, How Many Compliments Do You Get On Bumble? How Many Compliments Do Guys Get? Bumble Compliments Cost?
People can see up to 5 compliments sent to them per day. If you want to read more than that, you will have to sign up for Bumble premium.
Guys can only send 1 compliment per day on Bumble. I wouldn't be surprised if Bumble charged for to allow guys to send more than 1 compliment per day. Depending on location, guys can buy additional compliments at a pretty cheap rate.
Should You Send Compliments On Bumble? Are Compliments On Bumble Worth It?
Yes, on average, compliments show effort, however they can backfire if your complement is weird, gross, harassing, generic, or lame.
How To Respond To A Compliment On Bumble? How To Reply To Bumble Compliments
The same way you would respond to a compliment on Hinge. If it's gross, weird, harassing, harassing, etc, you don't need to respond. Screenshot, block, report. The worst way to respond to a compliment on Bumble is to ignore it and/or send just a Hi or Hey.
Bumble Super Swipe vs Compliment – Which Is Better?
Generally, compliments are better unless they are cringy. Super swipes are low-effort signs of desperation.
Do Guys Get Compliments On Bumble? Should You Compliment Guys On Bumble? Bumble Compliment Examples
You can, if you want to stand out but sending a like and a decent first message when matching is enough. 
Sample Bumble compliment: I love that spot, they have a fantastic spicy margarita. What's your favorite item on the menu at (insert place from photo). It doesn't have to be deep, vulnerable or complicated. Just put in effort.
Dating Coach Services - Men & Women
First date ideas, wardrobe styling, places to meet singles, where to sit at bars & restaurants, body language, vocal intonation, eye contact, conversation skills, how to be more approachable, conversation starters, grooming, hygiene, hair, wardrobe, style, hobbies, lifestyle choices, uncovering blindspots, reducing biases, weeding out creeps & time-wasters and more.
Clients from NYC, LA, Chicago, Washington DC, Silicon Valley, San Francisco, Boston, Austin, Seattle, London, Sydney & beyond. As seen in the NYT, WSJ, AskMen, Women's Health, SFGate, ABC7News, Bumble & More
Bumble Tips On First Messages, Bios, Prompts, Questions & Answers, Does Bumble Update Your Location Automatically, Bumble Elo, Bumble Help, Bumble You've Hit The End Of The Line, Bumble Online
About Eddie Hernandez
Eddie Hernandez is a dating coach for men & women and a professional photographer based in San Francisco, servicing clients in NYC, LA, Chicago, Silicon Valley, London, Washington DC, Boston, Sydney and beyond as seen in the NYT, WSJ, SFGate, ABC7News, AskMen, Women's Health Magazine & Bumble.
Former analytics professional and former user of dating apps himself, he possesses unique insight into dating app algorithms as well as a keen understanding of dating cultures across various locations, demographics, ages, ethnicities, cultures, genders and orientations.
He provides guidance on app choice, bios, prompts, wardrobe, messaging, image consulting, date planning, screening profiles, ID'ing red flags, weeding out time wasters & creeps and offline tips including lifestyle choices, hobbies, grooming/hygiene, communication skills, confidence, where to go, sit and meet singles. Whether you are a person of color, short guy, introvert, engineer, successful professional or woman over 40, he can help you be more efficient, knowledgeable and effective in your dating life.
Dating App FAQ's | Online Dating Resource Guide | Dating Services  |  New To Dating Apps
How To Send A Compliment On Bumble, Do Compliments Work On Bumble? Are Compliments Worth It On Bumble? Do People See Compliments On Bumble, What To Say When Someone Compliments Your Profile On Bumble, How To Buy Compliments On Bumble, How To Reply To Bumble Compliments, How To Get More Compliments On Bumble, Bumble Compliments Pe Day, How To Compliment On Bumble