Therapist, Psychologist, PHD, Education, Faculty, MD Headshots
Headshot For PHD's, Doctors, Psychiatrists, Therapists, Psychologists, Psychotherapists, Coaches, Education, Academic & Faculty Professors, MD San Francisco Bay Area
UC BERKELEY – STANFORD – UCSF – USF – DOMINICAN UNIVERSITY – ST. MARY'S – CIIS – WRIGHT INSTITUTE & MORE
When it comes to headshots for your practice, there are many things to factor. It can feel overwhelming to assess outfits, backgrounds, hair, makeup, jewelry, locations, backgrounds, cropping, orientation, colors and poses, but a great photographer can help guide you along. In professions like this, there is a need for a balance between authority, approachability and personality.
While studio shots can simplify the process and remove some unknowns with headshots, they can often appear generic, cliche and repetitive. If seeing people in person (which many people still prefer), obtaining photos in your office can provide a good selling point for others, as not all spaces are as inviting.
The purpose of a headshot is to be unique, standout and help connect with an audience. Too many therapists take a glamour approach with photos that make them feel detached from their client base. A sense of narcissism or inability to connect one on one is the last thing you need.
Professional Headshot Photography For Coaches, Therapists, LMFT, MFT, Psychologists & More
Below are a variety of options, styles and formats to consider when deciding to refresh your headshot or get one for the first time. Contact me below for a consultation to figure out what is best for you based on industry, function and what you want to convey, attract.
Background Ideas For Headshots, Headshot Location Ideas, Headshot Background
When it comes to backgrounds, colors, textures, and details, set the tone for what you want to convey.
Warm, soft colors provide a sense of approachability and connectivity to clients in a client-patient relationship. Your ability to create a safe space for vulnerability, transparency, and understanding is paramount.
Therapist Headshots – Branding, First Impressions
Too many therapists try to play it safe and follow website branding direction from their designers and branding coaches. Being able to connect with an audience is the most important thing you can do to build your business.
Differentiating yourself from others by being a bit unique, avoiding cookie-cutter cliches and being authentic goes a long way with people who are seeking not only advice but an ability to understand unique situations and backgrounds.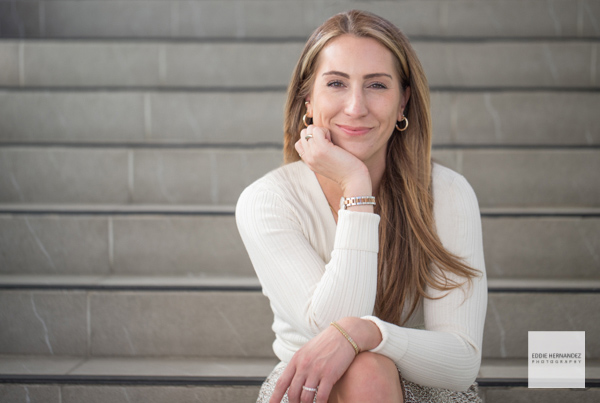 Seated vs Standing Headshots – Headshot Posing Ideas, Headshot Looks
A popular, modern approach to headshots is taken them seated on steps. While technically not a true headshot, these photos are typically used for branding purposes on one's own website and social media outlets.
This provides for additional options with hand and arm placements beyond leaving them on the side or folded in for a power pose.
Wardrobe Ideas, Outfits Ideas, Clothing Options For Headshots
It can be easy to get lost among the crowds with photos, especially if your hair, complexion or other attributes are pretty common or similar to others around you. Focus on your wardrobe and colors and help add some pop to photos.
If you want to create even more of a separation, a neutral background can highlight your clothing. Knowing what colors are flattering for your skin tone and hair, complement the backgrounds of photos, and are still professional or suit your industry and function are key to getting the most out of these headshots.
Faculty Lecturer, Professor Headshots, Teacher Headshots
For those in the education field, photos with a sense of professionalism and approachability can be attained utilizing a blend of smiles, professional attire, familiar backgrounds and open body language.
Outdoor shots in covered spaces, iconic monuments and landmarks on campus or generic blurred out backgrounds are most common with these types of photos
Educational Headshots, University Staff Headshots, Academic Headshots
If you are looking to represent your program, headshots that contain recognizable backdrops can bolster alumni sentiment and a strong community. I will work with you to capture spots on campus to complement looks, wardrobe, hair and more.
Experience shooting at St. Mary's, USF, Stanford, UC Berkeley, Dominican University, College of Marin, UCSF and more.
Psychiatrist Headshots, MD Headshots – Outdoor, Nature Headshots
Another popular option for psychiatrists and therapists is utilizing soothing nature backgrounds for photos. These can instill a sense of calming and gentleness needed to address certain kinds of patients.
A sense of happiness, trustworthiness and friendly demeanor are what most clients are seeking when deciding among therapists. If you are focused on building your business, don't sabotage your efforts with uninviting headshots that can raise doubt about your ability to connect with others in a safe and welcoming space.
Dermatologist Headshot, MD Headshot, Doctor Headshots
A big part of a doctor's business is about blending approachability and professionalism. This can be achieved through attire, posing, backgrounds, aesthetics, colors and more. 
I will work with you to assess things like hairstyle, skin tone, and most importantly what you want to convey and what you want to attract in terms of business, clients, press and visibility.
Therapist Headshots San Francisco, Therapist Headshots Bay Area, Psychologist Headshots San Francisco, Psychologists Headshots Bay Area, Therapist Portraits San Francisco Bay Area
How To Take A Headshot – How to prepare for a professional headshot, headshot tips for men & women, should you smile in a headshot etc.
Are Black And White Headshots Professional? Black And White Headshots vs. Color Headshots
Black and white photos can be more flattering and make it easier to get consistency in company headshots, but they often lack personality and can feel a bit intense.
UC BERKELEY HEADSHOTS – STANFORD HEADSHOTS – UCSF HEADSHOTS – USF HEADSHOTS- DOMINICAN UNIVERSITY HEADSHOTS – ST. MARY'S HEADSHOTS – CIIS HEADSHOTS – WRIGHT INSTITUTE HEADSHOTS
About Eddie Hernandez
Eddie is a professional photographer & dating coach based in San Francisco, servicing clients in NYC, LA, Chicago, London, Sydney & beyond.
His photography style balances approachability and professionalism while focusing on personality by consulting on wardrobes, appearance, location scouting and what the client wants to signal, attract. His photos are natural, organic and free from artificial filters and photoshopping seen with other photographers. 
When It comes to dating, his focus is on relationship-minded men and women while addressing lifestyle choices, appearance, hobbies, wardrobe, hygiene, communication skills, dating app profiles, blind spots, messaging, date ideas, confidence, location, etiquette & more. As seen in the NYT, WSJ & More.
Clients include VC's, CEO's, Attorneys, Tech, Non-Profits, Medical Professionals, Coaches, Engineers, Therapists, Government Officials, Shy Men, & Women, Actors, Models, Solopreneurs, Small Business Owners, Creative Professionals from Google, Apple, Salesforce, LinkedIn, Facebook, Instagram, Tesla & more.
Psychology Today Headshots, Counselor Headshots, Dr Headshots, Academic Headshots, Therapist Headshot Ideas, Teacher Headshots, Professional Therapist Photos, MD Headshots, Doctor Of Medicine Headshot, Medical Doctor Headshots