Professional Attorney Headshots – San Francisco Bay Area, Silicon Valley
Lawyer Headshots – Attorney Headshot Tips: How To Pose, What To Wear (Wardrobe Tips), Attorney Portrait Ideas, Law Firm Headshot, Modern Attorney Headshot Examples
Landscape vs Portrait Mode For Headshots, Portraits – Professional Attorney Headshots
If you look up attorney headshots on the internet, you will get a range of examples. Photos from 10+ years ago can feel outdated, like the infomercials you see on television advertisements.
If you look at more recent photos on photographer sites, they can feel like modeling photos which can feel a bit misleading but also call into question professionalism, reputation and experience. 
It's important to look approachable yet, professional in your photos. Displaying a sense of a keen business sense yet polished is key. While portrait mode is more classic, landscape headshots have a more modern look and feel to them.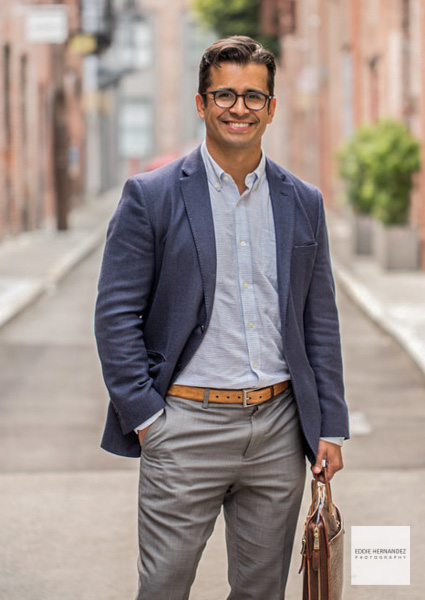 Should You Smile In Your Attorney Headshots? Professional Attorney Portraits
There are conflicting opinions on whether one should smile in their headshots. Some would say it's important to look professional at all times and to look the part of someone who is determined and put together, while others would say it's important to be approachable.
In my opinion, it matters slightly on the type of law you are practicing as well as where you are in your career. Some people can afford to throw out any rules or expectations once they achieve a certain amount of experience and/or success. Others need to maintain a ruthless demeanor.   
-Anuar Ramirez-Medina | Seven Hills Law Firm
Clothing, Jewelry, Makeup & Hairstyle For Professional Headshots – What To Wear For Attorney Headshots?
Classic wardrobes are recommended but a pinch of color can help you stand out from others. Pick outfits that fit well but also complement the background which you will ultimately choose for your headshot. Some law firms require consistent backgrounds, while others are more flexible with your headshots on their firm's site.
Light makeup is recommended so that photos don't look too saturated. Make sure to iron clothes ahead of time and make sure to get your haircut 3-7 days in advance as most people take a few days to let their new haircut sync in and be comfortable with their new look or obtain another appointment to improve the cut or go another route.
Should You Sit Or Stand For Headshots, Law Firm Portraits
That will depend on the environment as well as desired output of your photos. Some places might not be big enough for one type of photo or the other. Your photographer should be able to make recommendations based on space, lighting and aesthetics.
It will also depend on your subject, their body type and frame, as well as height of chairs and desks and what not. Some people will have a preference for one or the other but regardless of direction or preference, keep in mind the orientation and website requirements as some layouts will favor either a portrait or landscape photo.
Backgrounds For Headshots, What's A Good Headshot Background?
While some firms want the exact same background for all clients, some firms are more relaxed than that. Take a look at Edelson PC. Their headshots are all different but have a business, office background feel across their various office locations.
If having a specific background for your firm is important, it can get in the way for remote employees or those in new offices who might have a harder time replicating similar backgrounds.
One way to make photos consistent is to capture photos in black and white, for example.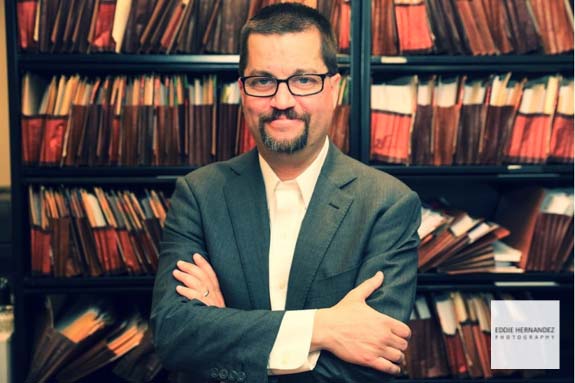 Professional Headshot Tips, Headshot Examples Men, Women, How To Take A Professional Headshot, Law Firm Headshots, Professional Lawyer Headshots, Headshots for Lawyers, Attorney Headshots SF, Attorney Headshots San Francisco, Lawyer Headshots Bay Area
For additional tips on how to take headshots, how to pose, what to wear, and background ideas, take a look at this headshot guide for help for both men and women.
About Eddie Hernandez
Eddie is a professional photographer & dating coach based in San Francisco, servicing clients in NYC, LA, Chicago, London, Sydney & beyond.
His photography style balances approachability and professionalism while focusing on personality by consulting on wardrobes, appearance, location scouting and what the client wants to signal, attract. His photos are natural, organic and free from artificial filters and photoshopping seen with other photographers. 
When It comes to dating, his focus is on relationship-minded men and women while addressing lifestyle choices, appearance, hobbies, wardrobe, hygiene, communication skills, dating app profiles, blind spots, messaging, date ideas, confidence, location, etiquette & more. As seen in the NYT, WSJ & More.
Clients include VC's, CEO's, Attorneys, Tech, Non-Profits, Medical Professionals, Coaches, Engineers, Therapists, Government Officials, Shy Men, & Women, Actors, Models, Solopreneurs, Small Business Owners, Creative Professionals from Google, Apple, Salesforce, LinkedIn, Facebook, Instagram, Tesla & more.
Female Attorney Headshots, Lawyer Headshot Female, Lawyer Photoshoot Ideas, Attorney Headshots San Francisco, Lawyer Headshots San Francisco, Attorney Headshot Samples, Lawyer Headshot Examples, Law Firm Portraits, Lawyer Portraits, Law Firm Headshots, Lawyer Photoshoot, Professional Lawyer Headshots, Female Lawyer Headshots, Headshots For Lawyers, Professional Attorney Headshots, Professional Attorney Portraits, Male Portrait Photographer, Modern Female Attorney Outfit, Attorney Headshots Bay Area