SAN FRANCISCO BAY AREA PHOTOGRAPHER, DATING PROFILE CONSULTANT
SAN FRANCISCO BAY AREA PHOTOGRAPHER: CLIENT TESTIMONIALS, RECOMMENDATIONS, CUSTOMER REVIEWS, RATINGS, SUCCESS STORIES, RATINGS, YELP, GOOGLE & MORE
San Francisco Bay Area Professional Photographer | Headshots, Branding, Lifestyle, Social Media, Corporate
San Francisco Bay Area Professional Photographer | Headshots, Branding, Lifestyle, Social Media, Corporate
San Francisco Bay Area Professional Photographer | Headshots, Branding, Lifestyle, Social Media, Corporate
As Seen In NPR, New York Times, Wall Street Journal, Food & Wine, Vogue, Esquire, Vox, Eater, San Francisco Chronicle, Fodor's Travel, Travel & Leisure, Lonely Planet, Saveur, Time, Forbes, Wired, Culture Trip, Time Out, Michelin Guide & More
I love working with creative individuals, those that think they are not photogenic and people who are looking for something unique to stand out from the crowds. Location scouting is my specialty and I know areas of Marin County, Oakland, Berkeley and San Francisco insides out. Studio shots might be fine for consistency and conformity, but they often convey rigidness, narcissism and cookie cutter profiles (more about me here).
Most people in the San Francisco Bay Area want headshots that capture individuality, environments, lifestyle and personality. This is particularly true if you are looking to establish a brand, tell a story, leave a lasting impression on your audience and balance approachability and authenticity.
To learn more about me and my dating services, check out my services page for more details
Below are select reviews and success stories from clients. You can see more on Google and Yelp. 
For press coverage on NYTimes, WSJ, Women's Health, AskMen, SFGate, ABC7News, and more, take a look at my press page.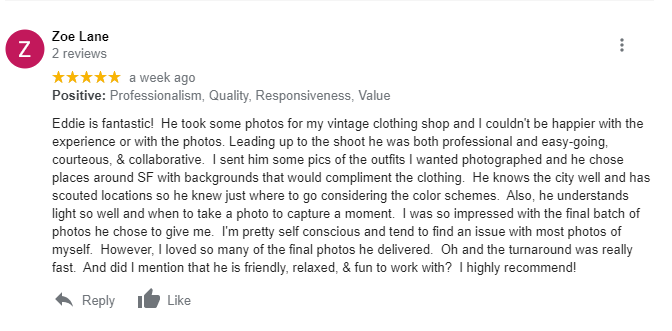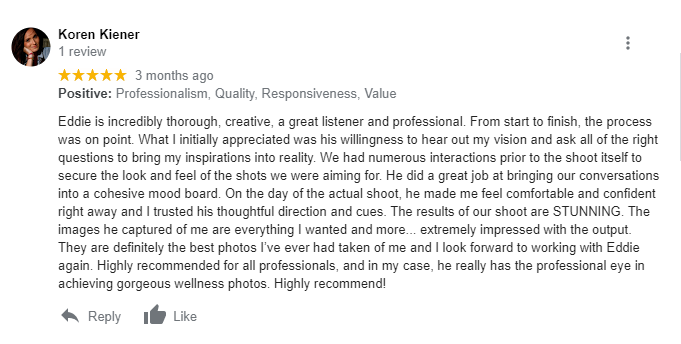 Check out some of my favorite business that I recommend here: 
CASA Audio Video Solutions (Fairfield, Vacaville, Vallejo w/ Home Electronic Installations, AV Receivers, TV Mounting (55 inches & smaller), Wi-Fi Camera, WiFi Networks & Smart Home Devices)
Mario Method – Teacher, Coach, Mentor & Behavioral + Developmental Specialist in Marin County
Professional Photographer | Online Dating Coach | Personal Style Consultant For Men & Women
About Eddie Hernandez
Eddie is a professional photographer & dating coach based in San Francisco, servicing clients in NYC, LA, Chicago, London, Sydney & beyond.
His photography style balances approachability and professionalism while focusing on personality by consulting on wardrobes, appearance, location scouting and what the client wants to signal, attract. His photos are natural, organic and free from artificial filters and photoshopping seen with other photographers. 
When It comes to dating, his focus is on relationship-minded men and women while addressing lifestyle choices, appearance, hobbies, wardrobe, hygiene, communication skills, dating app profiles, blind spots, messaging, date ideas, confidence, location, etiquette & more. As seen in the NYT, WSJ & More.
Clients include VC's, CEO's, Attorneys, Tech, Non-Profits, Medical Professionals, Coaches, Engineers, Therapists, Government Officials, Shy Men, & Women, Actors, Models, Solopreneurs, Small Business Owners, Creative Professionals from Google, Apple, Salesforce, LinkedIn, Facebook, Instagram, Tesla & more.
San Francisco Photographer, Famous Photographer, Famous San Francisco Photographers, Famous Bay Area Photographers, Best Bay Area Photographers, Best San Francisco Photographer, Top San Francisco Photographers, Best Photographers In Marin County, Best Silicon Valley Photographers, Top San Jose Photographers, Best Photographers In The Bay Area, Snappr San Francisco, Snappr Bay Area, Silicon Valley Snappr, Snappr Oakland, Snappr Marin, Thumbtack San Francisco Photographer, Hire A Photographer San Francisco, Corporate Headshots, Bay Area Headshots, San Francisco Headshots, Hitch Consultant, Hitch San Francisco, Oakland Headshots, Natural Light Photographer, Outdoor Headshots, Authentic Headshots, Genuine Headshots, Personal Branding Photographer, Headshot Photography San Francisco, Dating Photography, San Francisco Photography, Online Dating Photography, Bay Area Headshot Photography, Dating Profile Pictures Photography, San Francisco Headshot Photography, Dating Photos, Online Dating Photos, Best Tinder Photos, Dating App Photos, Professional Dating Photos, Best Online Dating Photos, Photos For Online Dating, Dating Profile Photoshoot, Bumble Photographer, Hinge Photographer, Tinder Photographer, Dating App Photographer, Online Dating Photographer, Dating Profile Photographer, Professional Tinder Photos, Online Dating Photographer Near Me, Professional Pictures For Dating Apps, Online Dating Success Stories. Photographer Testimonials, Dating App Testimonials, Photographer Life Story, Successful Photographer, Inspirational Photographer Stories, Best Headshot Photographer, Silicon Valley Headshots, Professional Acting Headshots, Local Photographer Reviews, Portrait Photographer Reviews, Photography Client Reviews, Photographer Review Samples, Photography Review Template, How To Write A Photographer Review, Highly Recommended Photographer, How To Thank A Photographer, How To Appreciate A Photographer, Headshots South Bay, Napa Valley Photographers, Headshots Oakland, Photographer Recommendations, Recommendations For A Photographer In San Francisco, Bay Area Photographer Recommendations, Marin County Photographer Recommendations, South Bay Photographer Recommendations, Bay Area Peninsula Photographer Recommendations, Napa Valley Photographer Recommendations, Silicon Valley Photographer Recommendations, Oakland Photographer Recommendations, Online Dating Profile Ghostwriter, Dating App Ghostwriter, Professional Photographer San Francisco Bay Area, Tinder Photography, Dating App Help, Dating App Consultant, Dating App Coach, Online Dating Consultant, Online Dating Coach, Best Photographer In San Francisco, Best Photographer In Northern California, Best Photographer Oakland, Best Photographer Berkeley, Best Photographer Silicon Valley, Best Photographer, South Bay, Best Photographer East Bay, Workstyle Headshots, The Best Photographers In San Francisco, Bay Area Brand Photographer, Linkedin Photographer, The Best Photographers In San Jose, The Best Photographers In Oakland, The Best Photographers In Marin County, The Best Photographers In Silicon Valley, The Best Photographers In Palo Alto, The Best Photographers In Northern California, Best Fashion Photographer San Francisco, Best Lifestyle Photographer Bay Area, Best Headshot Photographer SF, San Francisco Beauty Photographer, Adventure Photographer San Francisco, Best Headshot Photographer Near Me, Small Business Photography Marin County, Small Business Photographer Bay Area, Best Portrait Photographer San Francisco, Bay Area Portrait Photographer, In Home Photography Oakland, CA, In Home Photography SF, In Home Photographer San Francisco, In Home Photographer Bay Area, In Home Photographer Marin County, Photography Service East Bay, Photography Service San Francisco, Photography Service Marin County, Professional Divorce Photography,