Top Dating Dealbreakers, Funny Dating Dealbreakers, Weird Dating Dealbreakers, Early Dating Dealbreakers For Women, Dating Dealbreakers For Men
When it comes to dating, people spend too much time on things like photos, prompts, bios and opening lines. These things are very important, but they are only part of the equation.
Even if you optimize everything possible, that may not be enough. Your profile and efforts only reflect your preferences, deal-breakers, attributes etc. – they don't factor what other people want and what they consider deal-breakers.
On average, people on dating apps are more selective than they are in person. Dating apps commoditize profiles, inflates dating pool options and provides a false sense of interest through low-effort signals of attraction i.e. swipes. 
Below are some dating deal-breakers people have from common dealbreakers, funny dealbreakers, weird dealbreakers and more.
Biggest Turn-Offs For Men, Turnoffs For Guys, Occupation Deal-Breakers, Dating Turnoffs For Men, Weird Dating Dealbreakers,Worst Professions To Date
-Insecurity
-Vanity/Narcissism
-Therapists, attorneys, life coaches
-Basic lifestyle choices (brunch, tacos, wine)
-Inability to carry conversations
-Taking too many photos
-Spending too much time on social media
-Annoying voice / talking way too much
-Trying to rush dating i.e. relationship, marriage, kids
-Night shifts
-Voice
-Exotic dancer, Only Fans, Influencers, Too Many Followers On Social Media
Even then, guys will still swipe right on you if you are attractive enough or just want to hookup with you. The threshold for a hookup is pretty low for many men. More dating deal-breakers here.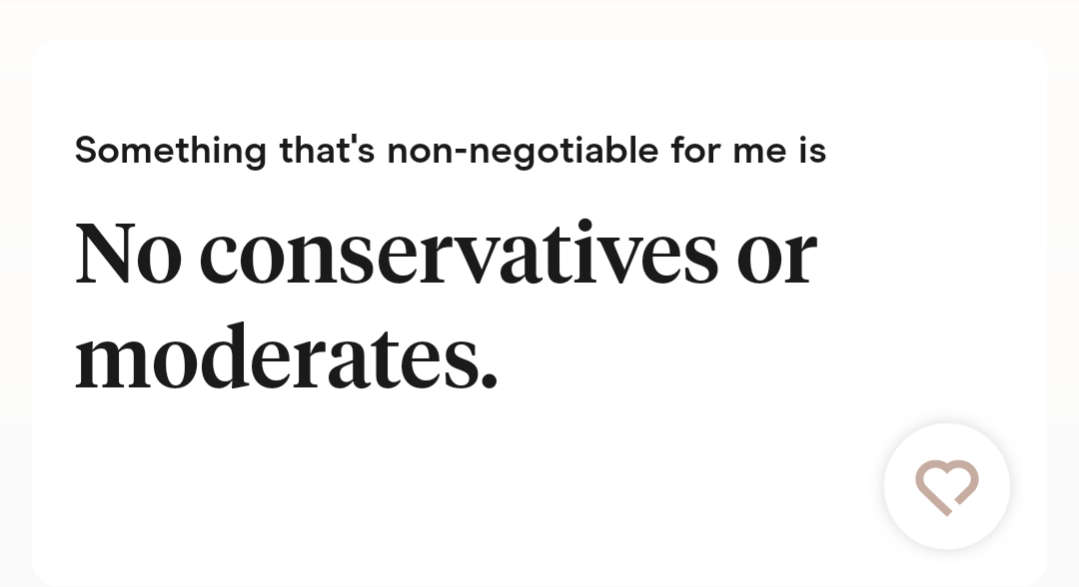 Biggest Turn-Offs For Women, Occupation Dealbreakers, Least Attractive Jobs On Dating Apps, Worst Professions Online Dating, Funny Dating Dealbreakers
-Laziness
-Lack of smiles
-Unemployed (also vague job titles i.e. entrepreneur)
-Demanding jobs (CEO/founder)
-Inability to try new things, be social, active
-Too many solo hobbies or non-communal interests
-Indecisiveness: unwillingness to take the lead, be assertive but thoughtful. 
-Poor hygiene (nails, breath, teeth etc)
-Poor grooming (facial hair, unkept beards, soul patches, unwilling to shave balding head)
-Lack of empathy
-Communication skills
-Following IG models on social media
-Jobs i.e. police officers, photographers, law enforcement, influencers, doctors, attorneys, therapists, travel sales/nurse, jobs at FAANG aka MAANG, Palantir, TikTok, Twitter (worst professions on dating apps, worst jobs online dating)
-Military background
-Crypto
-Your smell/odor, cologne choice
-Night shifts
Image Consultant: Wardrobe, Social Skills & Lifestyle
Eddie is an image consultant in San Francisco with clients in NYC, LA, and beyond. He began as a photographer but soon realized clients needed help with their fashion sense, social skills, hobbies & interests.
Clients include VC's, introverts, engineers, doctors, lawyers, men, women, gay/straight, POC, immigrants, divorcees/widows, those new to dating and/or struggling to make friends & build relationships with colleagues.
What's The Biggest Dealbreaker On A Date? First Date Dealbreakers, Common Dating Dealbreakers, Early Dating Deal Breakers
Chewing with mouth open, poor manners, since 2016 being a Trump supporter, bad breath, poor manners or being too pushy, being indecisive, being too busy, having too many IG followers, being unemployed etc.
Negative Language, Jaded Personality, Deal-Breakers In Dating Profile Bio, Being Too Needy – Online Dating Pet Peeves
If you come across people who have deal-breakers in a dating profile bio, take note. These people can be miserable, distrusting, jaded. No hook-ups, no players, lists height because apparently that matters, don't waste my time etc.
Learn how to decode such language in a profile here.
Are Tattoos A Dealbreaker? Dislikes For Dating Profile, Are Tattoos A Dating Dealbreaker?
They are for many people. Most don't care about small tattoos or ones that are not obvious but many do care about large tattoos, generic/cliche tattoos or tacky tattoos. If you don't know what is tacky or what your tattoos signal, consider asking an unbiased source about image consulting.
Is Smoking A Dating Dealbreaker? Is Cigarette Smoking A Dating Dealbreaker? Is Marijuana A Dealbreaker?
It is one of the biggest dealbreakers around. It's one thing to smoke an occasional cigar or joint but everyday smoking is a huge deal-breaker. 
As far as marijuana is concerned, some people are ok with CBD/tinctures only. Generally, smoking cigarettes or marijuana will reduce your dating pool.
Hair Preferences: Blondes vs Brunettes. Which Do Men Find More Attractive, Prettier? Do Men Like Long Or Short Hair On Women? 
Hair preferences (particularly color but also hair length) can be a big one. Some people prefer blondes but more men prefer brunettes on average. Similarly, with hair length, some men have a preference for one or the other but if a women looks better with shorter hair, most men don't care.
Most men have a strong preference for one color or the other but having more than one on a profile or bad hair jobs (coloring, streaks or roots showing) can have the ability to push away even more men.
Bottom line, no one should focus on trying to attract everyone or the most people (quality over quantity).
Are Beards A Dealbreaker? Facial Hair Preferences, Are Beards Attractive? Do Women Like Beards?
That depends on a few things. Some women like them, some hate them. Generally speaking, if you have one, make sure if is maintained. Some facial hair i.e. 5 o'clock shadows can be attractive but any facial hair can be a turn off if there are patchy gaps. Similarly, some guys look super young and a woman may prefer facial hair.
Is Someone's Voice A Deal-Breaker? Can Someone's Voice Be A Turnoff? Is Someone's Voice A Dating Dealbreaker?
Yes, absolutely. That is why some people hire voice coaches. Usually it is the high pitch, whiny voices that are the most annoying to people.
Dating Coach Services
Photos, Profile Reviews, Navigating Apps, Image Consulting, Date Ideas, Where To Meet Singles, Offline Efforts, Communication/Social Skills, Screening Profiles, Reading People, Relocation Advice & More.
Ideal Clients: Women, Men, Gay & Straight Individuals Seeking Relationships
Dating Deal-Breakers: Preferences vs Dealbreakers vs Nice To Haves
Dating deal-breakers can be absolute or can be relative. Some people may overlook deal-breakers if you check off more boxes of what they want/seek. Similarly, someone's dealbreakers can fluctuate later on in life especially when the stakes are elevated i.e. casual dating to relationships, family planning and more.
Deal-breakers for a hookup can be different from dealbreakers for a relationship. Assume nothing/everything.
With that said, honesty is mandatory. Lying about your preferences, lifestyle choices, hobbies, habits, background and details about your life can be deal-breakers. Being picky and having many dealbreakers is completely fine if you are ok taking your time, have no problem being single or are not in a rush to settle down. Once time is a factor, you have to assess what is a preference/nice-to-have vs what is a deal-breaker.
There is a fine line between self-growth and being authentic. Some people are stubborn and will never change, others try to change too much for the wrong reasons. It's important you do things for yourself but also keep in mind what your objectives are in life.
Don't budge on values.
About Eddie Hernandez
Eddie is a dating coach for men & women in San Francisco (clients in NYC, LA, Chicago, & beyond ), as seen in the NYT & Bumble). He has insight into algorithms as well as a keen understanding of dating cultures across locations, demographics, and orientations.
He helps with profiles, photos, wardrobe, messaging, date ideas, red flags, lifestyle choices, hobbies, grooming/hygiene, communication, social skills & where to meet singles. Whether you are a POC, short guy, introvert, engineer, or just struggling with dating, he can help you be efficient & strategic.